From CNN's Jack Cafferty:
A California court says the state has to reduce its prison population by as many as 57,000 inmates within three years. That's more than one-third of the nation's largest prison population.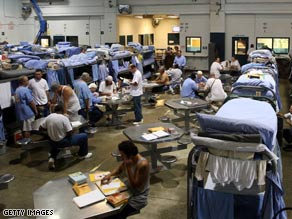 California prisons house nearly 173,000 inmates.
The panel of three judges ruled the state could do this by shortening sentences, limiting new admissions, sending nonviolent felons to county programs, reforming parole and giving early releases for good behavior. They say these options would not harm public safety. Not sure how they came to that conclusion, but anyway.
By keeping the system at more than 150,000 - which is double capacity - the panel says inmates are not receiving a level of medical and mental health care that's guaranteed by the Constitution.
California's attorney general is already vowing to appeal the ruling, saying it goes against public safety and that they will appeal directly to the U.S. Supreme Court. However, the panel of judges cites Governor Schwarzenegger's support for prison reforms. He has said this would reduce the prison population by about 40,000 inmates.
Perhaps more importantly, state budgets around the country are strapped for cash in these tough economic times and the court says California would save between $800 and $900 million a year by doing this. They say some of that money could go to local groups that would work with inmates put on parole or probation.
Here's my question to you: Should state prison inmates be released as a way of saving taxpayer dollars?
Interested to know which ones made it on air?