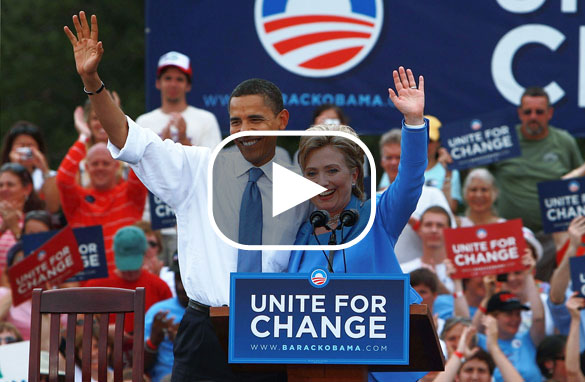 Click the Play Button to see what Jack and our viewers had to say. (PHOTO CREDIT: GETTY IMAGES)
FROM CNN's Jack Cafferty:
Today's rally with Barack Obama and Hillary Clinton in Unity, New Hampshire, was the latest in a series of staged events designed to show that all is forgiven between two former rivals for the Democratic nomination. Like a children's fairy tale... if it doesn't have a happy ending, it won't sell.
Yesterday, Clinton praised Obama in front of two major interest groups that had supported her in the primaries. And the two Democrats appeared before a group of Clinton's top donors last night. Clinton told supporters that Democrats "are a family" and Obama hailed Clinton and her backers, for their passion. Both Obama and his wife Michelle gave the maximum $2,300 to help Clinton retire her debt.
But how close-knit is this family really? The fact is each is forced to rely on the other as the general election ramps up. Obama needs Clinton to help convince her supporters to vote for him in November. And Clinton needs help in paying down her campaign debt, plus she wants to know that she'll be treated as a top surrogate throughout the campaign and at the convention.
Fine, but there are sticking points. Aides describe the relationship as one that's "slowly thawing" with a lot of unanswered questions. As we told you in the Cafferty File yesterday – they're reportedly using a high-powered Washington attorney to negotiate some of these issues.
And then there's Bill. The former president and Obama have not spoken since Obama wrapped up the nomination. Wouldn't you think the last sitting Democratic president might want to talk to the party's presumptive nominee? There may be less here than meets the eye.
Here's my question to you: How united do you think Barack Obama and Hillary Clinton really are?
Interested to know which ones made it on air?