FROM CNN's Jack Cafferty:
When then candidate Barack Obama traveled to Europe last summer, he was greeted as a rock star; and there's little reason to think it will be much different this time around. The president has a packed agenda as he heads for an eight day, five country trip that includes critical economic and political talks.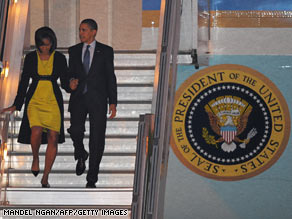 President Obama and his wife Michelle deplane Air Force One near London.
He'll attend a G-20 meeting of the world's major economic powers in London, a NATO summit marking 60 years since the alliance was formed, and international summits on hot topics like Afghanistan and Pakistan. He'll also make his first stop in a Muslim nation - Turkey.
Since becoming president, Mr. Obama has begun to follow through on campaign promises concerning issues near and dear to the hearts of many Europeans; things like global warming, ending the Iraq war and closing Guantanamo Bay Prison Camp.
And polls show Americans are very confident in their new leader as he heads overseas. A new CNN/Opinion Research Corporation survey shows 86 percent of Americans think the president will do a good job representing the U.S. on his trip. And 72 percent say leaders of other countries respect Mr. Obama. Compare that to President George Bush: just after the 9/11 attacks, 49 percent of Americans thought other Countries respected Mr. Bush, and his rating never got any higher than that.
Here's my question to you: As Pres. Obama heads to Europe for the G-20 summit, how has America's position in the world changed?
Interested to know which ones made it on air?