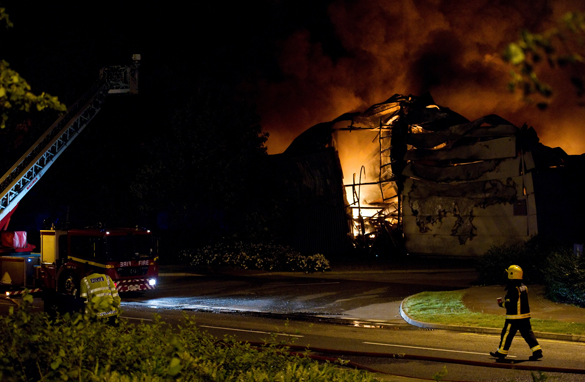 Firefighters battle a massive blaze at the Sony distribution center in Waltham Abbey, north of London. (PHOTO CREDIT: LEON NEAL/AFP/GETTY IMAGES)
FROM CNN's Jack Cafferty:
London is burning - along with many other parts of England - and the United States may want to take note.
More than 560 people have been arrested in London alone after the past three nights of violence. The city's jails are full.
And when you look at these pictures, it's hard to believe this is London, one of the world's great cities, and not some third world country with a ragtag government.
Looting, fires, rioting, attacks on police officers: Residents say it's like a "war zone" and that there's a "carnival atmosphere" among the gangs of hooded youths.
This all started after the shooting death of a 29-year-old black man at the hands of the police in London last week. It's still under investigation. But it's almost like that was the spark that ignited an explosion of anger and frustration from Britain's young and unemployed.
There are reports of children as young as seven participating in the violence and looting. Seven years old.
Prime Minister David Cameron has cut his Italian vacation short, and he's recalling Parliament. He's vowing tough action to stop the violence. Critics say the police have been missing in action so far, but 16,000 will report for duty on the streets of London tonight.
And the violence isn't just in London. It has also broken out in cities like Liverpool, Birmingham and Bristol.
There are many culprits for what's going on here - including ethnic tensions and absence of law enforcement.
But make no mistake - it's no coincidence that these riots are happening as the global economy hangs off the edge of a cliff. Income inequality in England is greater than at any time since the 1920s. And this rioting began in one of the poorest parts of London - Tottenham, where unemployment is devastating.
Here's my question to you: Are England's riots a sign of things to come here?
Interested to know which ones made it on air?