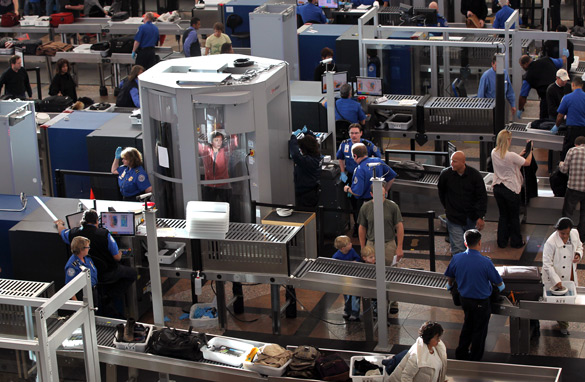 (PHOTO CREDIT: GETTY IMAGES)
FROM CNN's Jack Cafferty:
As the national debate over full-body scans and pat downs at airports rages on, there's another idea that maybe deserves a second look: profiling.
It works pretty darn well for Israel, but questions of political correctness always seem to put an end to the discussion in the U.S. Instead we are reduced to having our crotches grabbed.
However, a Washington Post-ABC News poll shows 70 percent of Americans support using available information about passengers to determine who gets picked for extra security screening.
When asked what criteria should be used to select passengers: 86 percent say personal behavior, 78 percent say travel history, 55 percent say nationality, and 50 percent say personal appearance.
This goes to the point that not all profiling is equal. There's a big difference between smart profiling and the less effective kind – based on race, religion, gender or country.
What's important is for the U.S. to improve profiling based on things like behavior, no-fly lists, personal data and travel history.
It turns out many pilots support this kind of profiling. The Daily Beast reports that online discussion groups show pilots complaining that the government is wasting resources by applying the same broad security measures to everyone.
Meanwhile, with all the hype over airline security, consider this: Politico reports that in 99 million domestic flights (that have carried 7 billion U.S. travelers) in the last decade, there have been zero bombs snuck onto airplanes and detonated. Zero.
Here's my question to you: When it comes to airport security, is it time to reconsider profiling?
Interested to know which ones made it on air?