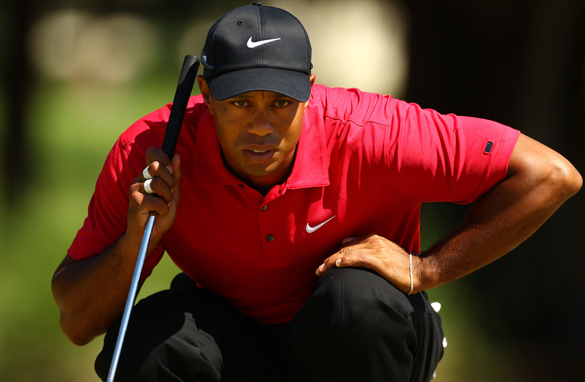 Tiger Woods lines up his putt on the second green during the final round of The Players Championship Sunday in Ponte Vedra Beach, Florida. (PHOTO CREDIT: GETTY IMAGES)
FROM CNN's Jack Cafferty:
Tiger Woods is no longer just about golf, regardless of what he says. His swing coach, Hank Haney, quit. Says he wants to move on. Woods won a third of the tournaments he entered and more than $51 million while Haney was his coach.
Nobody walks away from that kind of success unless he sees something the rest of us are beginning to.
Since Woods' so-called comeback, he has been less than stellar. Fourth at the Masters, missed the cut at Quail Hollow after shooting a second round 79 and quit in the middle of the fourth round of the Players Championship. Said he had a disc problem in his neck that had been bothering him since before the Masters.
But last Friday when he was asked about his health, he told a reporter he was 100 percent.
Like the details surrounding the Thanksgiving crash of his SUV, something is missing. And now the man who coached one of the greatest swings golf has ever seen, Hank Haney, is also missing. And suddenly Woods is noncommittal about playing in the U.S. Open in June.
When he was in rehab, he was forced to admit a lot of things that probably made him uncomfortable.
But when he returned to golf, the bravado was still there. The arrogance and impatience were still there. You could see him trying to mask it, but it was still there.
What was missing was the golf game. Granted when you're blessed with the kind of ability Tiger Woods has, it's probably too soon to count him out.
But there are growing signs Tiger Woods is a very long way from coming to terms with himself and his demons. And until he's able to do that, it's going to be a struggle.
I know. I have been there.
Here's my question to you: What can the rest of us learn from Tiger Woods?
Interested to know which ones made it on air?