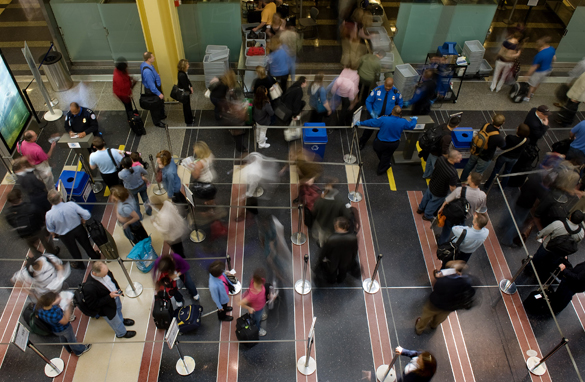 (PHOTO CREDIT: GETTY IMAGES)
FROM CNN's Jack Cafferty:
Two million people a day are expected to travel through this nation's airports Tuesday and Wednesday before Thanksgiving. I am very happy I'm not one of them.
Airline travel this holiday season is shaping up to be a nightmare, thanks to the government's new airport security measures, which include full body scans and invasive pat-downs.
A growing backlash to these measures is coming from all corners, from pilot and flight attendant groups to civil rights and privacy advocates.
Even Secretary of State Hillary Clinton, who hasn't gone through airport security in decades, admits she wouldn't want to submit to an enhanced pat-down if she could avoid it.
Passengers are sharing outrageous stories that show just how embarrassing and invasive all this is:
A flight attendant and breast cancer survivor says she was asked to remove her prosthetic breast during a pat-down, while a bladder cancer survivor wound up soaked with urine during his pat-down.
The latest example comes by way of a viral video of a shirtless boy getting a pat-down from a TSA agent. A partially disrobed child forced to submit to groping by a strange adult. It's just disgraceful.
The TSA insists it's trying to strike a balance between security and privacy concerns. Really?
One industry expert tells the Associated Press that the agency is working under an unachievable mandate since the risks constantly change when terrorists use new tactics. This means the TSA is always in crisis mode, adding new policies to respond to the last terror plot.
And on some level, Americans do get their dilemma. A recent CBS poll shows that four out of five Americans support the use of full body scans.
Interested to know which ones made it on air?