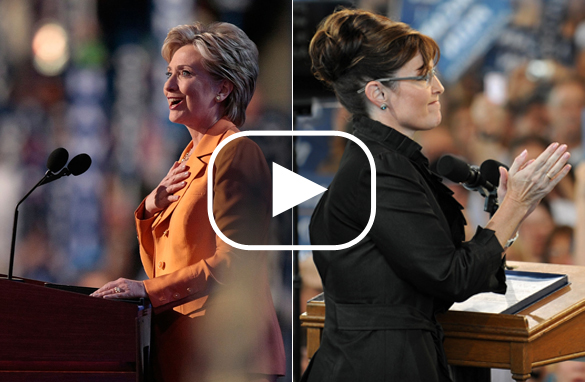 Click the play button to see what Jack and our viewers had to say. (PHOTO CREDIT: GETTY IMAGES)
FROM CNN's Jack Cafferty:
Campaigning for Barack Obama in Ohio this weekend, Senator Hillary Clinton revised one of her "zingers" from the Democratic National Convention last month - "No way, no how, no McCain..."
Yesterday she added, "No Palin."
Clinton went on to criticize the McCain ticket but did not single out Governor Sarah Palin again in the speech.
Palin meanwhile hit the campaign trail solo in Colorado today.
She told voters there that she and John McCain were going to shake up Washington.
Watch: Cafferty: Who's more authentic?
Hindsight being what it is, some are questioning whether Barack Obama made a mistake when he chose senator Joe Biden instead of Hillary Clinton as his pick for vice president.
With the Sarah Palin phenomenon taking hold, these people now appear to have been prescient.
Here's my question to you: Which woman has more credibility with the average American, Sara Palin or Hillary Clinton?
Interested to know which ones made it on air?