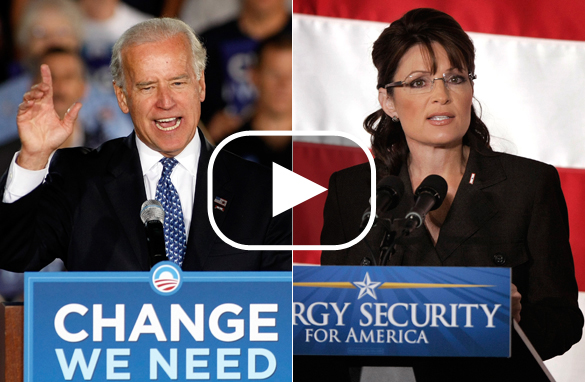 Click the play button to see what Jack and our viewers had to say. (PHOTO CREDIT: GETTY IMAGES)
FROM CNN's Jack Cafferty:
A lot's been made of Republican Vice Presidential nominee Sarah Palin going off-script and off-message over the past couple of weeks. Some of John McCain's aides aren't too pleased with some of the things coming out of her mouth. They say she's gone "rogue." she's been called a "diva." her supporters - and she has many– say it's just Sarah Palin, being Sarah Palin.
On the Democratic side, you're not seeing too much of Joe Biden being Joe Biden during these final days. In fact, Barack Obama's normally chatty running mate - known for some serious gaffes himself when unscripted - has been conspicuously quiet these past couple of weeks. Suddenly Biden, who will normally consent to an interview at the drop of a hat, has not made himself readily available to the media. As Time magazine's Karen Tumulty, who's been traveling with Biden, put it, at times he's like "a politician packaged in shrink-wrap."
Watch: Cafferty: VP pick could slip
And that's probably got a lot to do with remarks he made at a Seattle fund-raiser a couple of weeks ago when he said Barack Obama would be tested by an international crisis soon after being elected. Obama's public response was, quote "I think that Joe sometimes engages in rhetorical flourishes." But perhaps there was a private response too... And that's why these days there's "No Joe."
Here's my question to you: In the closing days, who is the greater risk for saying something harmful: Joe Biden or Sarah Palin?
Interested to know which ones made it on air?