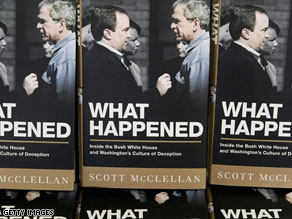 FROM CNN's Jack Cafferty:
Former White House press secretary Scott McClellan is now talking, and everyone but the White House is listening.
McClellan strongly defended his critical memoir about the Bush Administration in a TV interview this morning. He said the president decided to go to war against Iraq shortly after the 9-11 attacks. He said Mr. Bush did not review all the evidence before making his decision and instead relied on his gut.
McClellan said he became "disillusioned" with the administration once he realized he was being used as a pawn in a much larger political game. He said the president and his aides operated in a "permanent campaign culture", which caused them to ignore the facts leading up to the war once those facts didn't fit their picture and advance their political agenda.
McClellan says the tipping point for him was the CIA leak case, particularly when he found out that it was the president himself who had secretly declassified parts of an intelligence report about Iraq, enabling Scooter Libby to leak classified information that bolstered the case for war to the media. These are damning revelations in light of Bush's repeatedly condemning the selective release of secret intelligence information.
McClellan says the low point of his job was being ordered to tell the press that Karl Rove and Scooter Libby were not involved in leaking CIA operative Valerie Plame's identity to the press. A criminal investigation later revealed that they were.
Critics call McClellan a turncoat, a sellout and a disgruntled former employee. The White House has called his book puzzling and sad, and some former colleagues want to know why McClellan never voiced any of these doubts earlier. His former deputy, Trent Duffy, says McClellan owes his whole career to President Bush yet he's "stabbing him in the back... and dancing on his political grave for cash."
Scott McClellan will be a guest in the Situation Room tomorrow.
Here's my question to you: What would you ask Scott McClellan?
Interested to know which ones made it on air?