FROM CNN's Jack Cafferty:
It's official: Roland Burris will be sworn in and officially seated in the United States Senate later this week. He fills the seat vacated by President-elect Obama.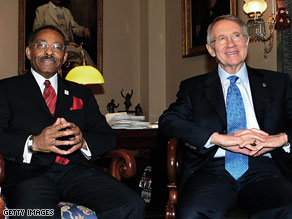 Why did Reid change his mind?
This comes after a circus of events that started with Illinois Governor Rod Blagojevich allegedly trying to sell the seat. Then he refused, and does to this day, to resign from his post. Last week, Blagojevich was impeached by the Illinois legislature. But in a brazen show of arrogance, and perhaps as a way of calling Harry Reid's bluff, Blagojevich went right ahead and appointed Roland Burris. As promised, the Senate refused to seat him.
When Burris was named, Senate Majority Leader Harry Reid and others quickly said they would reject anyone appointed by Governor Blagojevich.
Sen. Dick Durbin of Illinois, number two in the Senate, initially said the fate of the vacant seat should wait until Blagojevich is removed from office.
And there was no shortage of lawmakers issuing statements or rushing in front of cameras to speak their minds. But look what can happen in a week. Burris met behind closed doors with Reid. Democratic Senators suddenly changed their tune and now they will welcome Burris with open arms as their new colleague.
Here's my question to you: Why did Senators Harry Reid and Dick Durbin cave in and agree to seat Roland Burris as President-elect Obama's Senate replacement?
Interested to know which ones made it on air?