From CNN's Jack Cafferty:
In meetings to hammer out an economic stimulus package acceptable enough to pass an anticipated House vote, President Obama told Republicans he's not willing to compromise on tax rebates for nearly every working American.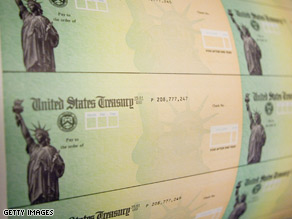 Should Americans who don't pay income tax receive one of these stimulus checks?
According to an aide, the President said, "Feel free to whack me over the head because I probably will not compromise on that part."
Every working American includes people who don't make enough to pay income taxes. The President justifies his support because these people do pay payroll taxes, Social Security and Medicare and therefore, they are taxpayers.
No matter how you look at it, the economy is bad and that's true for everyone, whether you pay income taxes or not.
Jobs are disappearing by the millions and people are scared.
The Conference Board's Consumer Confidence Index fell to 37.7 this month, which is an all-time low dating back to 1967.
There's no light at the end of the tunnel, at least not yet. And President Obama might be giving a glimmer of hope to the least fortunate among us by standing his ground.
Here's my question to you: Should people who earn too little to pay income tax be given tax rebates?
Interested to know which ones made it on air?