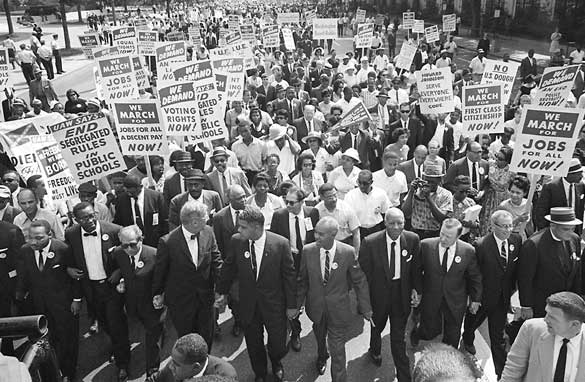 Nearly 46 years after the March on Washington, the Attorney General says Americans remain in their "race-protected cocoons." (PHOTO CREDIT: AFP/GETTY IMAGES)
From CNN's Jack Cafferty:
Some tough words from the nation's first African-American attorney general.
Eric Holder says the U.S. is "essentially a nation of cowards" when it comes to openly talking about race relations.
Holder was speaking to Justice Department employees celebrating Black History Month. He says that although the workplace has become mostly integrated, Americans still self-segregate themselves on the weekends and in their free time. "Though this nation has proudly thought of itself as an ethnic melting pot, in things racial we have always been and I believe continue to be, in too many ways, essentially a nation of cowards," said Holder.
Holder says race is often a political discussion, but not one among average Americans. He says he was motivated by President Barack Obama's speech on race last fall. At the time, then-
candidate Obama called on the nation to break "a racial stalemate we've been stuck in for years." He delivered that landmark speech to try to distance himself from the hateful sermons of his former pastor, the Reverend Jeremiah Wright.
Holder echoed Obama's words in saying there's still so much work to be done in this area. He called on people to be more honest with one another and open to criticism. The attorney general described Americans as being stuck in what he calls their "race-protected cocoons" and said that when it comes to how most of us spend our free time the country in some ways isn't so different from 50 years ago.
Here's my question to you: Do you agree with Attorney General Eric Holder that the U.S. is a "nation of cowards" when it comes to race?
Interested to know which ones made it on air?