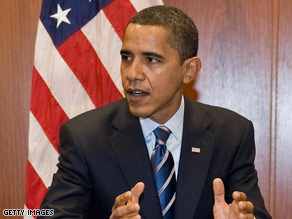 FROM CNN's Jack Cafferty:
According to a new CNN/Opinion Research Poll, 79-percent of Americans approve of the way President-elect Barack Obama is handling his transition to the White House. And those are pretty good numbers, 14-percentage points higher than President-elect George W. Bush received and 17-percentage points higher than President-elect Bill Clinton.
Some are voicing concerns about Barack Obama though, many of whom campaigned for "change" alongside him, but feel they've ended up with something quite different. Specifically, some Liberals are not happy with his cabinet appointments from the political center as well as his change of mind on things like rolling back the Bush tax cuts, taking on big oil and hedging plans to pull out of Iraq.
In Sunday's Washington Post, David Corn, Washington Bureau Chief of the liberal non-profit magazine Mother Jones, said: "Sure, Obama's appointments do represent change - that is, change from the widely unpopular Bush-Cheney status quo. But do these appointments amount to the kind of change that Progressives, who were an essential part of Obama's political base during the campaign, can really believe in?"
Here's my question to you: Are Liberals right to be upset with President-elect Obama's cabinet appointments and tax cut plans?
Interested to know which ones made it on air?