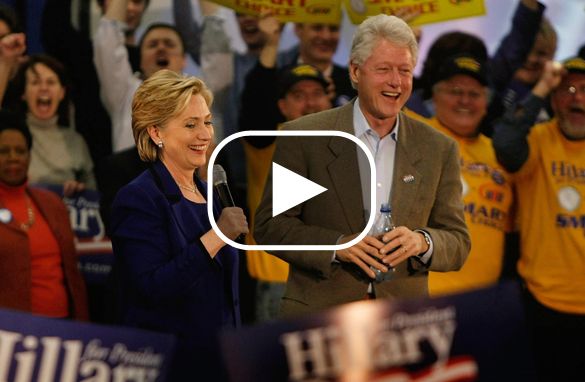 Click the play button to see what Jack and our viewers had to say.(PHOTO CREDIT: GETTY IMAGES)
FROM CNN's Jack Cafferty:
It looks like Barack Obama is narrowing his search for a vice president, and Hillary Clinton ain't on the list. There are reports that Virginia Governor Tom Kaine is quote "very, very high on the short list" and that he's told associates he's had "very serious conversations" with Obama about joining the ticket.
Some of the other names out there are Senators Evan Bayh and Joe Biden, Kansas Governor Kathleen Sebelius and former Senator Sam Nunn. But no Hillary. She may dream about being on the dream ticket, but that's apparently about all.
Watch: Cafferty: Clintons MIA?
Right after the primaries CNN's Roland Martin told me the chances of Hillary being on the ticket were slim and none. When one of our bosses told him he needed a second source for that information, Roland said, "There is no second source." Looks like he knew what he was talking about.
The New York Times says Clinton has told people close to her she thinks there's little chance Obama will pick her. Here's a clue: She hasn't been asked to provide any documents to the committee vetting potential VPs. She's not campaigning for Obama either.
Hillary Clinton hardly darkened the door of the U.S. Senate for 16 months while she was running for president.
Now all of a sudden her former campaign chairman Terry McAuliffe says she's been too busy working in the Senate to campaign for the Democrat who won the nomination. He says once she's done there, though, "she's going to hit the campaign trail." Her Senate work didn't keep her from campaigning for herself almost every day for a year and half.
And what about Bill Clinton? Almost as silent and invisible as his wife.
Here's my question to you: When it comes to Barack Obama, where are the Clintons?
Interested to know which ones made it on air?