From CNN's Jack Cafferty:
President Obama proclaimed that the U.S. will actively and aggressively seek lasting peace between Israel and the Palestinians.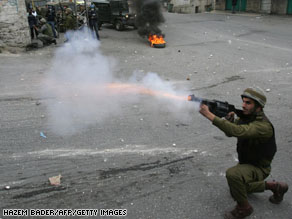 An Israeli soldier fires tear gas at Palestinian stone-throwers during a demonstration by Hamas supporters to celebrate what they called the 'Gaza war victory' following the weekly Friday prayers in the West Bank city of Hebron on January 23, 2009.
Last month Israel launched an attack on Gaza that lasted three weeks destroying buildings and claiming lives. A unilateral cease fire was reached last week, and President Obama has urged Israel to open its borders with Gaza.
The new President also announced that George Mitchell will serve as special envoy for Middle East peace under Secretary of State Hillary Clinton. Mitchell's credentials include negotiating the cease fire in Northern Ireland in 1998.
This is yet another break from the Bush administration that avoided appointing someone to the post.
Now former Secretary of State Condoleezza Rice negotiated a deal for open border crossings to Gaza back in 2005 but Israel often shut them down because of security concerns.
Israeli officials say they will not open the border if it, in any way, strengthens or legitimizes Hamas.
Here's my question to you: How should the Obama administration approach achieving peace in the Middle East?
Interested to know which ones made it on air?