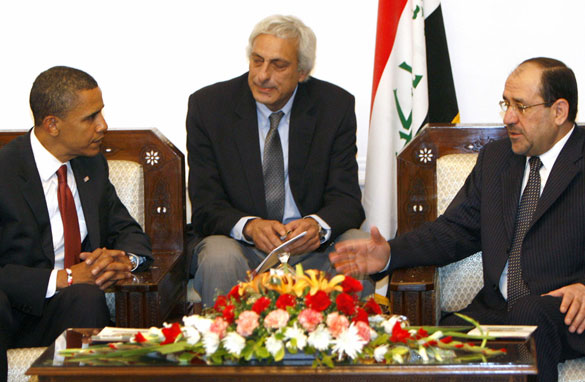 Senator Barack Obama meeting with Nouri al-Malaki in Iraq. (PHOTO CREDIT: GETTY IMAGES)
FROM CNN's Jack Cafferty:
While John McCain goes on and on about the surge and winning in Iraq – whatever that means – Iraqi Prime Minister Nuri al-Maliki says Barack Obama has the right idea: get U.S. troops out of his country within 16 months.
Talk about a blow to President Bush and John McCain. President Bush wants everything to be up to him, and John McCain says we could be in Iraq for 100 years. Nuri al-Maliki told the German magazine "Der Spiegel" that he'd like U.S. troops to withdraw "as soon as possible", adding that Barack Obama's talk of 16 months "would be the right time frame for a withdrawal."
The Bush administration immediately said that can't be right: the statement was out of context, it was mistranslated, that isn't what he meant blah blah blah. But the translator for the interview with the German magazine was Nuri al-Maliki's translator. And al-Maliki brought the subject of Barack Obama's timetable up on his own, voluntarily. The New York Times obtained a copy of the audio recording in which al-Maliki stated clear support for Obama's ideas for ending the war. The German magazine says it stands by its interview.
This follows a capitulation by President Bush last week in agreeing to talk to Iran about its nuclear program, something the president said he would never do unless they stopped enriching uranium. McCain, of course, goes along with President Bush, but Obama said all along we should talk to them. What could it hurt?
Here's my question to you: What does it mean when the Iraqi prime minister endorses Barack Obama's schedule for getting U.S. troops out of Iraq?
Interested to know which ones made it on air?