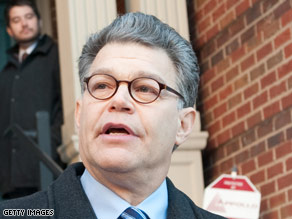 FROM CNN's Jack Cafferty:
Call it the Minnesota Follies. The land of 10,000 lakes and Jesse Ventura is now threatening to give us a senator from Saturday Night Live. What's wrong up there? Two months after the election and they're still trying to figure out who won.
How tough can this be? It's not like counting all the votes in China.
The contest between incumbent Norm Coleman and Democratic challenger Al Franken is starting to resemble the telethon for Jerry's kids.
On Monday the state canvassing board certified the recount and declared Franken the winner. But Coleman won't go away.
He's filing a lawsuit to challenge the recount of the recount. The move could drag this thing out until spring. His lawyers said the process is just beginning. That's what lawyers do. The longer they can drag things out, the more money they make.
The rest of the country managed to elect their lawmakers without a problem back in November. Georgia had a runoff, but that's long since over. It's now January and the 111th Congress has convened.
When it comes to elections, Minnesota is starting to make Florida look efficient.
Here's my question to you: Why is it taking Minnesota so long to elect a senator?
Interested to know which ones made it on air?