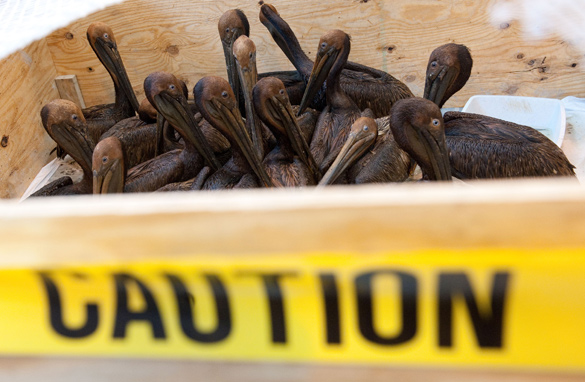 Oil covered brown pelicans found off the Louisiana coast wait in a holding pen for cleaning at the Fort Jackson Oiled Wildlife Rehabilitation Center. (PHOTO CREDIT: SAUL LOEB/AFP/GETTY IMAGES)
FROM CNN's Jack Cafferty:
There are thousands of oil wells under the ocean. We have seen the effects of one going terribly wrong.
The economy of the Gulf Coast decimated… the fishing and tourism industries crushed.
If the administration's moratorium on offshore drilling is upheld by the courts this time around, thousands of additional people will lose their jobs in an economy already overrun with folks who can't find work.
Drilling for oil at these depths is risky at best and can be disastrous at worst - as we have seen.
But we need the oil… because for almost 40 years, since the Arab Oil Embargo of 1973, this country has failed to develop a coherent energy policy.
We just keep whistling past the graveyard of dependence on the Middle East and deep water drilling… waiting for the next crisis… whether it's another blown well, ruptured pipeline, or war in the Middle East that will interrupt the flow of oil and drive prices through the ceiling.
And it's not a question of whether there will be another crisis… it's a question of when the next one comes and how serious it will be.
But just like with so many of the other challenges confronting our country, the government and by extension we, the people seem content to live in a world of denial… unwilling to make the tough decisions necessary to make our energy future safer and more secure.
Here's my question to you: How should the Gulf oil spill affect this country's energy policy going forward?
Interested to know which ones made it on air?