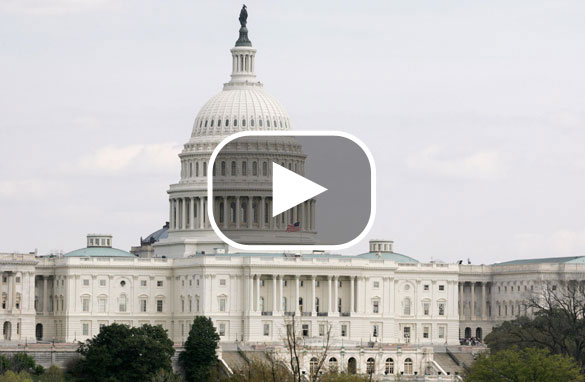 Click the Play Button to see what Jack and our viewers had to say. (PHOTO CREDIT: GETTY IMAGES)
FROM CNN's Jack Cafferty:
"There is no district that is safe for Republican candidates," according to the chairman of the Democratic Congressional Campaign Committee, Representative Chris Van Hollen. He tells the Washington Post that "no one could have imagined the tsunami that just crashed on Republicans in Mississippi."
That's where a Democrat won a Republican-held congressional seat in the northern part of the state yesterday. This is a district where President Bush won by 25 points in the 2004 election, and the former Republican congressman won reelection with 66% of the vote in 2006.
It's the third special election the GOP has lost this spring, including a House race in Louisiana that had been Republican for more than three decades and the seat of former House speaker Dennis Hastert in Illinois.
Seems to have set off some warning bells. The head of the National Republican Congressional Committee is calling on all GOP candidates to "take stock of their campaigns" and get ready for "challenging" races in the fall.
Democrats say these races are a sign of what's to come in November. They say they're going after the Republicans' strategy of tying Democrats to Barack Obama, a strategy that has failed twice now in the Deep South.
Meanwhile, a new Gallup poll shows Congress' approval rating has dipped below 20% for only the fourth time in 34 years. Only 18% of Americans approve of the job Congress is doing. That ties a record for this survey.
Add in the fact that 82% of Americans think the country is headed in the wrong direction, and it's no wonder so many incumbents in Congress are opting not to run for reelection.
Here's my question to you: Was yesterday's race in Mississippi a sign that congressional Republicans should start packing their bags?
Interested to know which ones made it on air?