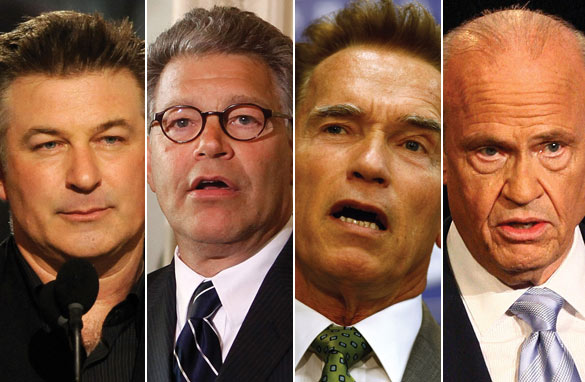 Left to Right: Alec Baldwin, Al Franken, Arnold Schwarzenegger, Fred Thompson. (PHOTO CREDIT: GETTY IMAGES)
FROM CNN's Jack Cafferty:
The actor Alec Baldwin is reportedly eyeing a run for Congress just as former comedian Al Franken becomes the newest show biz type to join lawmakers on Capitol Hill. Baldwin vowed to leave the country if George Bush was elected, but he's still here and now reportedly wants to become part of the Washington establishment.
We've gotten used to celebrities on Capitol Hill drawing attention to this cause or that cause from time to time. But it's also nothing new for these celebrities to step into the role of lawmaker.
Former pro wrestler Jesse Ventura became Governor of Minnesota in 1998. He declined to run for a second term.
Actor Fred Thompson, notably of Law & Order fame, served as a Senator from Tennessee before mounting a failed bid for the White House.
And speaking of Presidents, Ronald Reagan, of course, was an actor before jumping to politics, as was California Governor Arnold Schwarzenegger. And we can't forget singer and actor Sonny Bono.
The list goes on including stars from shows like the Love Boat, and the Dukes of Hazard who all have spent time in Washington on behalf of constituents who elected them to office.
Baldwin's credentials are questionable… but Al Franken is no slouch. He's Harvard educated and one of his first duties will be as a committee member for the confirmation hearing of Sonia Sotomayor next week.
Why it occurs to actors who spend their time pretending to be someone else that they are the answer to our nation's problems is a mystery. On second thought, how much worse can they be than the ones that are groomed for life inside the Beltway?
Here's my question to you: Is politics a good second career choice for actors and comedians?
Interested to know which ones made it on air?