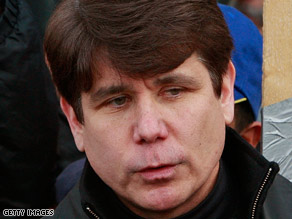 FROM CNN's Jack Cafferty:
Illinois Governor Rod Blagojevich and his chief of staff were arrested by Federal authorities this morning on corruption charges. A 76-page complaint spells out numerous allegations against the Governor including trying to sell President-elect Barack Obama's Senate seat.
The evidence seems clear: conversations caught on tape thanks to wiretaps of the Governor's home and campaign office.
The depth of the corruption alleged in the complaint is breathtaking - even for Illinois. It includes Blagojevich allegedly instructing his chief of staff to tell the Tribune Company to fire members of the Chicago Tribune editorial board in exchange for assitance from the Illinois Finance Authority to sell the Cubs and the financing or sale of Wrigley Field.
Illinois political corruption is not new... Governor George Ryan is serving a six-year sentence for fraud and racketeering.
And former Governor Dan Walker was convicted, after leaving office, for bank fraud.
But this could be a new low. Under Illinois law it is up to the governor to name a replacement to fill Barack Obama's senate seat, but whether Blagojevich will still get to do that remains to be seen. The prosecutor in the case, Patrick Fitzgerald, says the governor retains that right despite today's arrest.
Here's my question to you: Do you believe that Illinois Governor Rod Blagojevich was trying to sell Barack Obama's senate seat?
Interested to know which ones made it on air?