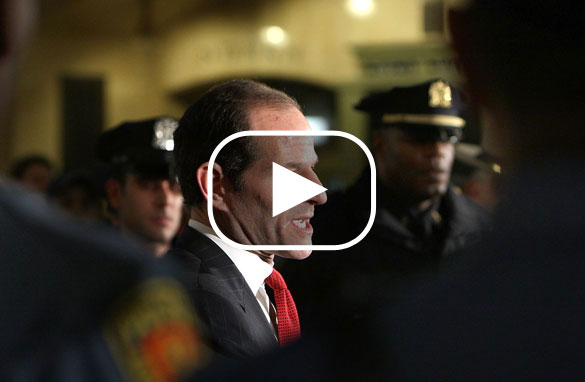 (PHOTO CREDIT: GETTY IMAGES)
FROM CNN's Jack Cafferty:
New York Governor Eliot Spitzer is apologizing to his family and the public for a personal matter he's not giving details on.
But the New York Times reported that Spitzer told advisers he was involved in a prostitution ring. Apparently the governor was caught on a federal wiretap arranging to meet with a prostitute at a Washington hotel.
Keep in mind, this is a guy who pledged to bring ethics reform to the state's capital. Back when he was attorney general, Time magazine named him "Crusader of the Year" and the tabloids dubbed him "Eliot Ness." What is it about politicians and illicit sex?
Former President Bill Clinton tried to cover up the Monica Lewinsky scandal, repeatedly declaring his innocence and insisting he "did not have sexual relations with that woman" before he was eventually impeached by the House.
A few years ago, New Jersey's Governor Jim McGreevey, also a married father, resigned after revealing he was gay and had an affair with a man, a former employee whom he had named as head the state's Office of Homeland Security.
Then there was Congressman Mark Foley. He also resigned after reports that he had sent racy e-mails to at least one underage male page.
And we have Larry Craig, who is still a member in good standing of the United States Senate, despite the fact that he was arrested in the Minneapolis Airport after cruising the men's room there trying to solicit sex from an undercover cop.
Why do politicians think they can hide this kind of stuff from the public and get away with it?
Here's my question to you: Will New York Governor Eliot Spitzer have to resign after a report that he's involved in a prostitution ring?
Interested to know which ones made it on air?