FROM CNN's Jack Cafferty:
It looks like the Obama administration is on track to spend about $6 billion over the next five years to expand national community service efforts. Both houses of Congress have now passed legislation that would increase funding for thousands of volunteers in everything from clean energy to health care and education.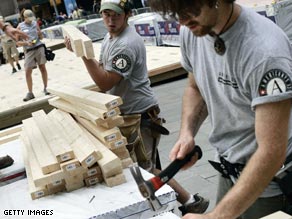 The AmeriCorps volunteers pictured here are seen building a house for hurricane victims.
The president is expected to sign the bill into law soon. Among other things, "The Edward M. Kennedy Serve America Act" would:
● More than triple the number of positions in the AmeriCorps program to 250,000
● Create four new national service corps and other initiatives - including a so-called "Summer of Service" program to increase community service by students
● Create a "Silver Scholars" program which would encourage older Americans to volunteer. They would get a $1,000 reward for putting in 350 hours of service.
● It would also increase the stipend offered to AmeriCorps volunteers
Supporters insist that during a time of economic crisis, we need service and volunteering more than ever. But critics say the bill is fiscally irresponsible in light of our slumping economy. They also say the idea of volunteerism is undermined by paying people to do community service.
Here's my question to you: Is now the right time for the U.S. to spend $6 billion on expanding national community service programs?
Interested to know which ones made it on air?