FROM CNN's Jack Cafferty:
While the President and First Lady lobby in Copenhagen for the 2016 Olympic Games to come to Chicago, it's worth pointing out that a lot of people who live in there don't want them. Mayor Richard Daley has called it "a once in a lifetime opportunity," and supporters talk about how the Olympics could bring jobs and revenue to the city.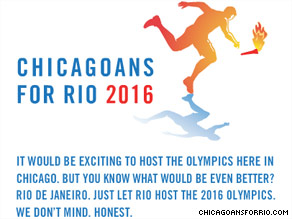 ChicagoansForRio.com urges the Olympic Committee to vote on holding the games in Rio.
But not everyone is buying it.
One poll by the Chicago Tribune/WGN shows fewer than half of Chicago residents want to host the summer games. One group opposed says if Chicago gets the games, "corruption, cronyism, cost overruns... are guaranteed." Hey - it's Chicago.
There's even a web site called Chicagoans for Rio that urges the Olympic Committee to send the games to Brazil. They cite deficits of former host cities which in some cases are huge. They list Chicago's latest crime statistics... there's even a picture of Athens five years after the games where they claim 21 of 22 of the city's Olympic venues now sit empty and unused.
They also compare Rio de Janeiro to Chicago with examples like these:
City nicknames: the Marvelous City vs. the Second City.
Histories: Portuguese empire capital vs. a rail yard.
And... Signature events: for Rio - naked people dancing vs. for Chicago - chubby people eating.
Here's my question to you: Should it matter if more than half of the people in Chicago don't want the 2016 Olympic Games?
Interested to know which ones made it on air?