FROM CNN's Jack Cafferty:
Assistant Senate Majority Leader Dick Durbin, the Democrat from Illinois, called yesterday "a sad day for my state."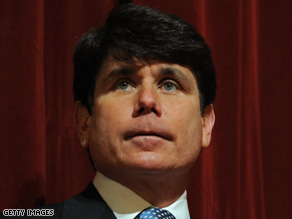 A sad day, sure, his state's governor was handcuffed and hauled off to appear before a federal judge. But in Illinois it's not like this has never happened before.
There's a pattern of corruption among governors in the "Prairie State." Counting Governor Blagojevich, four of the last seven governors elected in the state of Illinois have been arrested. Democrat Otto Kerner, who was Illinois's governor from 1961 to 1968, was convicted of taking bribes from the manager of two horse-racing tracks and spent some time in prison. Dan Walker, also a Democrat, who held the job from 1973 to 1977, served time after he left office for receiving improper loans. And Republican George Ryan, who served as governor from 1999 to 2003, was charged with accepting gifts in return for political favors and was sentenced to six years in prison in 2006.
Blagojevich, of course, was charged yesterday with among other things trying to sell President-elect Obama's senate seat.
A proud tradition, isn't it? And don't even start on the history of corruption in the city of Chicago. This is only a three-hour program.
Here's my question to you: When it comes to political corruption, what is it about Illinois?
Interested to know which ones made it on air?