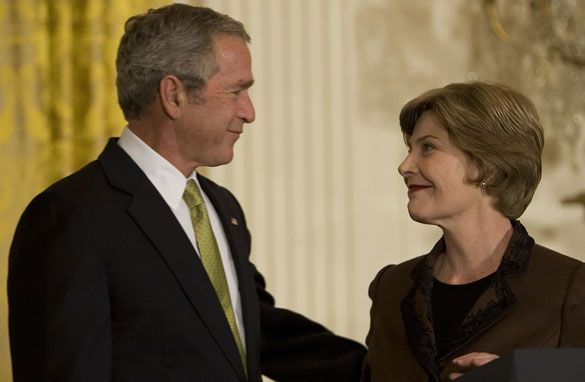 (PHOTO CREDIT: AP)
FROM CNN's Jack Cafferty:
Coming to a theater perhaps even before he leaves office: "W", Oliver Stone's upcoming movie about President Bush.
A draft of the script describes our president as, quote "a foul-mouthed, reformed drunk who is obsessed with baseball."
"The Hollywood Reporter" sent a draft of the screenplay to four biographers of the president to see how accurate they thought it was. Reactions were mixed; they say specific scenes are largely based in fact, but the screenplay shows inaccurate and over-the-top caricatures of President Bush and his inner circle.
One biographer says it "really misses the mark" of how the White House is run, leaving the impression that it's similar to a fraternity house, with everyone using nicknames and casually chatting about going to war. Another biographer was skeptical about Stone's claim that he wants to make a "fair, true portrait" of the president... saying that's "like Donald Trump saying he is going to be modest." Also, several of the experts say the script inaccurately depicts the president as being manipulated by White House staff when it comes to policy decisions.
Stone had no comment, but one screenwriter says he's read 17 books on the president, and a producer says, "We've done our homework."
Stone's previous movies "JFK" and "Nixon" were controversial. It remains to be seen how much of an appetite the American public will have for a movie about a lame duck president, especially when there's so much interest in who the next president will be.
"W" is set to start filming in Shreveport, Louisiana, this month. It already has foreign distributors, but no domestic deal is in place yet.
Here's my question to you: Are you interested in seeing Oliver Stone's movie about President Bush?
Interested to know which ones made it on air?