FROM CNN's Jack Cafferty:
When it comes to President Obama's plans for the struggling car companies, many autoworkers say the administration is being much harder on them than the many failing banks.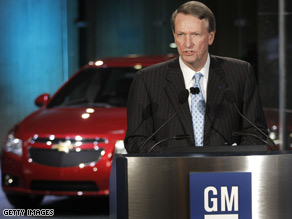 Some auto workers have called ousted GM CEO Rick Wagoner (pictured) a sacrificial lamb, scapegoat, and fall guy.
The president of one United Auto Workers chapter calls it the "age-old Wall Street vs. Main Street smackdown," adding that there's lots of money available to banks that are "apparently too big to fail, but they're also too big to be responsible." Meanwhile he says auto manufacturing and middle class jobs have to meet a higher standard.
Many workers even sympathize with General Motors CEO Rick Wagoner, calling him a sacrificial lamb, scapegoat, and fall guy. They believe the government hasn't given the same harsh terms to insurance giant AIG or the banks in which it's taken an ownership stake. And they're absolutely right.
Michigan Governor Jennifer Granholm calls President Obama's moves quote "a bit of tough love," and says she hopes the financial industry gets "as tough a scrutiny as the auto industry has."
Also, a piece in 'Politico' asks why the banks get carrots while the auto industry gets the heavy stick. They say the White House believes it gave both GM and Chrysler a chance to prove they could come up with a plan for survival, and they didn't.
Also, although the collapse of the American auto industry would devastate workers, suppliers and executives, it probably wouldn't destroy the broader U.S. economy, like the collapse of certain financial institutions could. And since the public seems to have bailout fatigue, this was a chance for the president to show he's not willing to stick the taxpayer with the bill once again.
Here's my question to you: Some autoworkers say President Obama treated car companies worse than Wall Street. Are they right?
Interested to know which ones made it on air?