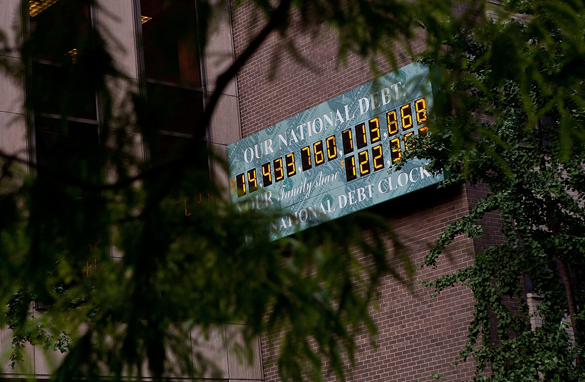 The National Debt Clock, a billboard-sized digital display showing increasing U.S. debt, as seen August 1, 2011 in New York City. (PHOTO CREDIT: GETTY IMAGES)
FROM CNN's Jack Cafferty:
The saying goes "where there's a will there's a way"... but it's not clear if our leaders have the political will - or the backbone - to fix the country's serious debt troubles.
We'll find out soon enough when the so-called super committee gets to work. We're starting to learn who will make up this powerful group... including John Kerry on the Democratic side and John Kyl for the Republicans. Their job is to cut the deficit by $1.5 trillion over 10 years.
To do that, they must take on the issues of tax increases and entitlement cuts. So far, Congress has refused to touch either issue - even though the country is insolvent and now has had its credit rating downgraded for the first time in our history.
With an election coming up next year, what makes anyone think they will suddenly make the tough decisions now?
Consider Washington's track record on the issue of deficit reduction:
Last year, President Obama named a bipartisan debt commission - which had a lot of this stuff in it. The proposals came out after the midterms, and were ignored. Then there was the gang of six in the Senate which also recommended tax reform and changing entitlement programs. That went nowhere, too. The last time there was a significant drop in federal government spending was 1954. This is all cheap political theater.
A new CNN/ORC International poll shows 63% of Americans want the committee to recommend higher taxes for the wealthy and business. 57% say the proposal should also include major cuts in domestic spending.
But majorities of those polled don't want major changes to social security and medicare... or tax increases on the middle class and poor.
It's the "have your cake and eat it" syndrome.
Here's my question to you: How much faith do you have in the "super committee" to fix our debt woes?
Interested to know which ones made it on air?