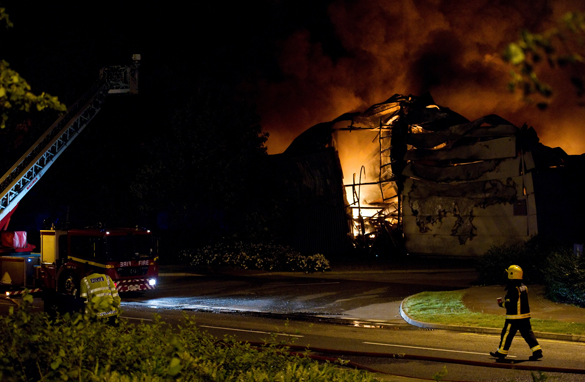 Firefighters battle a massive blaze at the Sony distribution center in Waltham Abbey, north of London. (PHOTO CREDIT: LEON NEAL/AFP/GETTY IMAGES)
FROM CNN's Jack Cafferty:
London is burning - along with many other parts of England - and the United States may want to take note.
More than 560 people have been arrested in London alone after the past three nights of violence. The city's jails are full.
And when you look at these pictures, it's hard to believe this is London, one of the world's great cities, and not some third world country with a ragtag government.
Looting, fires, rioting, attacks on police officers: Residents say it's like a "war zone" and that there's a "carnival atmosphere" among the gangs of hooded youths.
This all started after the shooting death of a 29-year-old black man at the hands of the police in London last week. It's still under investigation. But it's almost like that was the spark that ignited an explosion of anger and frustration from Britain's young and unemployed.
There are reports of children as young as seven participating in the violence and looting. Seven years old.
Prime Minister David Cameron has cut his Italian vacation short, and he's recalling Parliament. He's vowing tough action to stop the violence. Critics say the police have been missing in action so far, but 16,000 will report for duty on the streets of London tonight.
And the violence isn't just in London. It has also broken out in cities like Liverpool, Birmingham and Bristol.
There are many culprits for what's going on here - including ethnic tensions and absence of law enforcement.
But make no mistake - it's no coincidence that these riots are happening as the global economy hangs off the edge of a cliff. Income inequality in England is greater than at any time since the 1920s. And this rioting began in one of the poorest parts of London - Tottenham, where unemployment is devastating.
Here's my question to you: Are England's riots a sign of things to come here?
Interested to know which ones made it on air?
Dave in Orlando:
What surprises me is that we haven't had any yet. We have sleazy people in Congress, lazy people in the White House and crazy people in the Supreme Court. All of which has precipitated income disparity beyond measure, a tiny number of people who will never have a worry or want in the world and an enormous number of people whose world is nothing but worry and hardship. If our complacency is so metastasized, we are terminal.
Jeremy in London:
No, Jack, while some of the same problems might exist, the U.S. is too vast and the police in the U.S. would put this down in a day. There is a sad underclass mentality in the UK where everything is everyone else's fault; this is where the U.S. stands head and shoulders above places like that. No chance this can happen in the US.
Jennifer:
It's amazing to me how quickly "protesters" turn into "rioters" and "hooligans" in the media. It's also amazing that people have not made the connection between unemployed youth and what happened in Syria, Egypt, Libya, et al. The youth here are unemployed too, and all it may take is a spark.
Clifton on Facebook:
Yes. America is headed down the path to riots and civil disorder if nothing changes in our government and if people don't get jobs soon. Wake up, people… We just lost our AAA rating and it's only the beginning. 46 million people on food stamps is not a joke.
John:
Jack, have you forgotten the civil rights days? I know you're as old as I am, at least you look it.
Curtis in Philadelphia:
Excuse me, Jack, but this is America! As long as I have: cable TV, can have food delivered, have access to fast food restaurants that I can drive through using the cheapest gas in the western world, can buy cheap stuff from Wal-Mart, can own a hundred guns, and can access free porn on the internet, why the hell would I want to riot? That takes effort my friend.