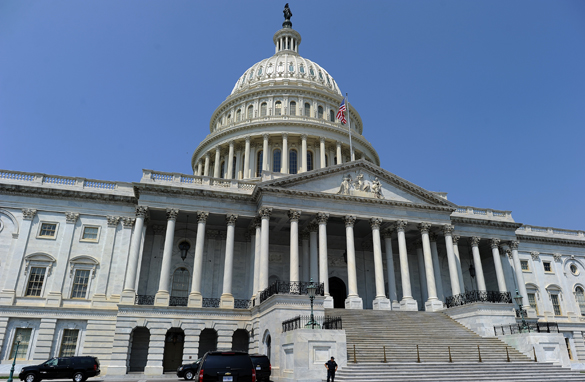 (PHOTO CREDIT: JEWEL SAMAD/AFP/GETTY IMAGES)
FROM CNN's Jack Cafferty:
I guess we should all send Congress thank-you notes. Don't know where to send them, though. They're on vacation ... for five weeks.
Before they rushed through that phony bill on deficit reduction and the debt ceiling, they were told by the ratings agencies that a minimum of $4 trillion in cuts would be necessary to preserve this country's AAA credit rating.
They passed, and the president signed, less than $1 trillion in cuts. We may or may not get an additional trillion or so in cuts from the "special commission"; that remains to be seen. Whichever happens, it's not nearly enough.
In the meantime, while President Obama is celebrating his birthday and Congress is partying it up on vacation, the country has lost its triple-A credit rating for the first time in our history.
Standard and Poor's, one of the ratings agencies, says there's a one-in-three chance the United States' credit will be downgraded again in the next six months to two years if the government doesn't come up with the cuts necessary to satisfy the current AA+ rating.
Meanwhile, the rest of the world is in shock. Markets around the world are selling off as trillions of dollars in valuation are being wiped out. Our stock market is headed straight south, and our citizens are watching as their savings and retirement plans are becoming worth less and less by the hour; a lifetime of hard work and sacrifice disappearing before their eyes. And the president parties and Congress is on vacation.
No one deserves a government that treats its people this way. And none of these people who voted for this deserves to be re-elected. None of them. But sadly, a lot of them will be. The Reids and Pelosis will still be there after the 2012 election, along with many of the rest of the incumbents.
And that's the real problem. The country is being destroyed, and we continue to send the destroyers back to Washington.
I guess in the end, we get what we deserve.
Here's my question to you: What will it take to change things in Washington?
Interested to know which ones made it on air?
Brian:
Change Washington? Sorry Jack, but barring divine intervention, I'm not optimistic at all. We want it all, but we want the other guy to pay for it. In addition to good old fashioned greed, "What we've got is failure to communicate".
Tommy:
The root of the problem is gerrymandered congressional districts. Too many congressmen live in districts where their biggest worry isn't from the other party's candidate, but instead getting 'primaried' by someone from their own party. Districts are drawn to protect the incumbent. Thus congressmen have no incentive to move to the center and compromise. They instead move the left/right extreme to protect themselves from a primary candidate from their own party.
Jim:
With a broken government, Obama needs to abandon compromise and override the inept Congress. If Harry Truman could obliterate 100,000 innocent civilians with nuclear weapons, surely Obama could ruffle some conservative feathers. Game on!
Minesh in Troy, Michigan:
Jack, The only change agent in Washington is Tea Party. As long as we keep voting for big government spendaholics like George W. Bush, Obama, Pelosi, Reid and Boehner, we will keep getting a disastrous rating!
Zev:
My solution: "Operation Clean Slate." Let's replace every member in Congress. Use the primaries to oust the incumbent. Then vote Democrat or Republican, but at least the incumbent won't win.
Christi:
Revolution.
Sterling:
The "Mother of All Enemas." The far right and the far left need to move to the far side of the planet so those of us in the middle WHO WORK FOR A LIVING can make a permanent fix of this mess.