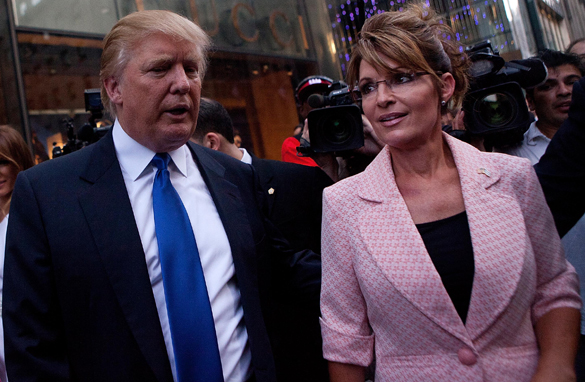 (PHOTO CREDIT: GETTY IMAGES)
FROM CNN's Jack Cafferty:
With the 2012 election sneaking ever closer, there's still a chance Sarah Palin and Donald Trump might throw their hats in the ring. Which would tend to fit nicely with the political insanity we've been experiencing the past couple of weeks.
Trump says he would consider running for president if the economy continues to be bad and if the Republicans pick the wrong candidate. Trump would be the wrong candidate.
Nevertheless, he tells CNBC he would give it "very, very serious thought," adding, "there are so many people wanting me to do it." That list would fit on a cocktail napkin.
We've been here before. Trump flirted with the idea in the past, including this year, before deciding against it. At the time, he blamed many of the economy's problems on "foolish leaders" who let countries like China steal American jobs.
As for Sarah Palin, she'll be keeping herself in the spotlight when she headlines a tea party rally near Des Moines, Iowa, over Labor Day weekend.
The "I quit after half a term" former governor of Alaska says the U.S. needs a "restoration of all that is good and strong and free," whatever that means.
The September appearance will mark Palin's second in Iowa this year. In late June, she and her husband, Todd, attended the premiere of the pro-Palin documentary "The Undefeated."
Meanwhile, turns out that film has been soundly defeated at the box office. The movie, which opened nationwide mid-July, earned a lousy $5,000 this past weekend, the worst performance yet. The popcorn stand at the theater took in more.
Palin recently said she plans to decide about 2012 in late August or September. God help us.
Here's my question to you: Are Sarah Palin and Donald Trump the answer to the country's problems?
Interested to know which ones made it on air?