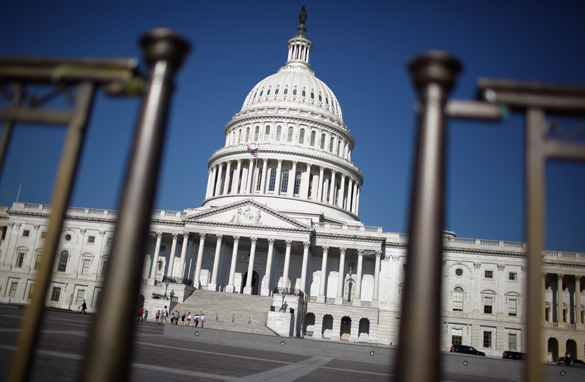 The plaza on the east side of the U.S. Capitol. (PHOTO CREDIT: GETTY IMAGES)
FROM CNN's Jack Cafferty:
The debt ceiling crisis proves once again that it doesn't matter who's in charge in Washington. Democrats and Republicans both treat the public with the same disregard and lack of respect.
The hasty vote in the House to raise the debt ceiling by as much as $2.4 trillion breaks the Republican pledge to post bills online for three days before voting.
The complicated 75-page bill was written Sunday night and posted around 2 a.m. Monday morning. The House voted on it Monday night.
This means - yet again - members were voting on something that many of them hadn't even read. It's a bill that includes complex structures for raising the debt ceiling. there's also the possibility of amending the constitution by creating a new "super committee" with special powers and changing the historic strength of the senate filibuster.
But that didn't seem to stop them.
Remember back when the Democrats shoved health care reform through Congress - a 2,200 page monstrosity?
Then-House Speaker Nancy Pelosi said, "we have to pass the bill so that you can find out what is in it." Republicans were outraged at the lack of transparency and the closed door dealings. And they were right.
Yet here we are. Again.
Members of Congress, up against a hard deadline, have no time to let this bill go through the regular process of hearings, getting outside opinions, etc. instead - we're getting another bill crafted by a handful of members of Congress, under a cloak of secrecy, with party leaders and the White House.
It's disgraceful - and no wonder a new CNN-ORC poll shows congress with a measly 14% approval rating.
Here's my question to you: When it comes to the federal government, what will stop the madness?
Interested to know which ones made it on air?
L.:
Nothing. We keep thinking that al-Qaeda is the enemy. After today, we know they have slipped into the number two slot. The real enemy is in Washington. The real terrorists are the ones we elected to mind the best interests of this country and who only pay attention to their political aspirations. Our trust has been broken.
Brian in San Diego:
The only thing that can stop the madness is what got us into it in the first place: the voters. The only way to move past this era of extremist partisan deadlock is for the voters to elect more moderate representatives who are willing to seriously work toward bipartisan deals.
Ann in Cincinnati:
There are no cowboys left in Congress, only aliens.
Tony in Topeka, Kansas:
I'm just wondering if the madness hasn't been around since the first Congress was in session. It's just that we have more access to it thanks to you guys, Jack, and all the social media available now.
Ron in Nebraska:
Term limits is a good start. I think three terms are more than enough. One term in office and two terms in prison for all the wrongs done in the first term. And I think it should be retroactive starting now.
Dennis in Florida:
Thomas Jefferson said we should have a revolution about every twenty years and start over with a completely new government. We are about ten revolutions behind schedule.
Bryan in Colorado Springs:
The madness will never stop. Shut up and eat your peas. Please sir, may I have some more.