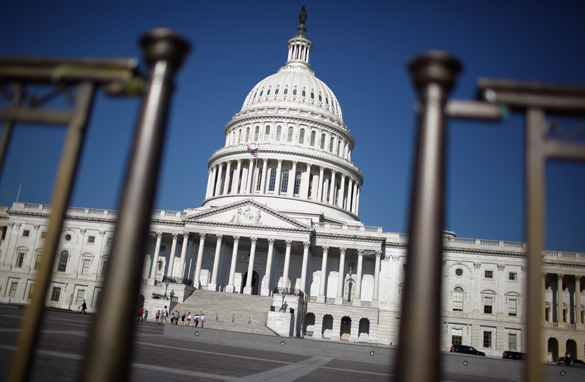 The plaza on the east side of the U.S. Capitol. (PHOTO CREDIT: GETTY IMAGES)
FROM CNN's Jack Cafferty:
The debt ceiling crisis proves once again that it doesn't matter who's in charge in Washington. Democrats and Republicans both treat the public with the same disregard and lack of respect.
The hasty vote in the House to raise the debt ceiling by as much as $2.4 trillion breaks the Republican pledge to post bills online for three days before voting.
The complicated 75-page bill was written Sunday night and posted around 2 a.m. Monday morning. The House voted on it Monday night.
This means - yet again - members were voting on something that many of them hadn't even read. It's a bill that includes complex structures for raising the debt ceiling. there's also the possibility of amending the constitution by creating a new "super committee" with special powers and changing the historic strength of the senate filibuster.
But that didn't seem to stop them.
Remember back when the Democrats shoved health care reform through Congress - a 2,200 page monstrosity?
Then-House Speaker Nancy Pelosi said, "we have to pass the bill so that you can find out what is in it." Republicans were outraged at the lack of transparency and the closed door dealings. And they were right.
Yet here we are. Again.
Members of Congress, up against a hard deadline, have no time to let this bill go through the regular process of hearings, getting outside opinions, etc. instead - we're getting another bill crafted by a handful of members of Congress, under a cloak of secrecy, with party leaders and the White House.
It's disgraceful - and no wonder a new CNN-ORC poll shows congress with a measly 14% approval rating.
Here's my question to you: When it comes to the federal government, what will stop the madness?
Interested to know which ones made it on air?