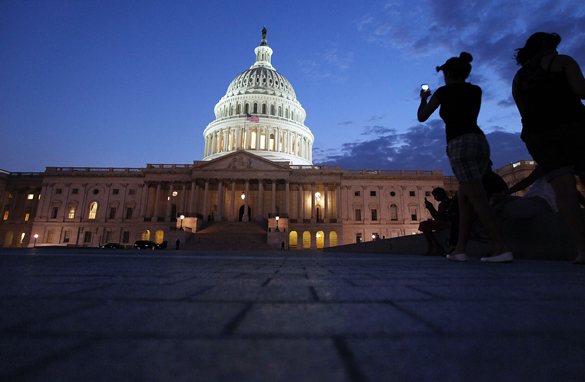 The Capitol building was illuminated last night as President Obama announced congressional leaders had reached a tentative agreement to extend the federal debt limit while enacting spending cuts. (PHOTO CREDIT: GETTY IMAGES)
FROM CNN's Jack Cafferty:
The government is selling snake oil - again.
Look closely and this so-called "deal" on the debt ceiling crisis is a triumph of sleight-of-hand over substance.
Sunday night it was, "We will cut a trillion dollars in the first 10 years." By this morning a trillion had become $917 billion, which means we lost $83 billion in cuts overnight. Makes you afraid to go to bed.
In the first three years of the Obama presidency, the deficits will total about $4.2 trillion. Cutting $917 billion over 10 years, or $91 billion a year, is chump change.
Then there's the commission, another one. Remember the commission President Obama ordered to come up with answers to this stuff last year?
They did. Their report was full of a lot of good ideas. It was ignored by the president and Congress. But they want us to believe this commission will be different.
Baloney. There has been no attempt to address tax reform or entitlement reform. That will be left for "The Commission." My guess is they won't touch it anymore than the current crop of folks tackled it. And without those two things, we are doomed.
Supposedly there will be triggers in the legislation that will require additional cuts totaling $1.4 trillion across the board if the committee and Congress cannot agree. Color me skeptical.
We are facing more than $61 trillion of unfunded liabilities from Medicare, Medicaid, Social Security and other obligations - $61 trillion.
There is no money to meet those obligations and our government knows it. But they have the unmitigated gall to march out Sunday night as though they had found a cure for cancer and expect us to break down in uncontrolled adulation. They make me ill.
Here's my question to you: Do you buy the government's so-called solution to the debt ceiling crisis?
Interested to know which ones made it on air?
Chris in New Jersey:
No. It was the easy way out that doesn't reform much of anything. The Republicans should have offered up tax reform by way of a fair tax and the Democrats should have allowed entitlement reform.
B.:
These guys are such phonies. I darn near barf every time they try to convince us that they have solved the problem. Hells bells, how stupid do they think we are?
Andrew:
The can just got kicked a little further down the road or further down the "election cycle" so to speak... Our elected leaders don't care about the long term fiscal solvency of this country. They care about Nov. 2012 and keeping our heads above water for a few minutes longer.
Kait:
Baloney. Roll back taxes to what they were under Clinton. The rich need to pay their share.
Rob in Saratoga Springs, New York:
No, the problem of too much borrowing, too much spending, and too much printing of money, cannot be solved with more borrowing more spending, and more printing.
Eric:
I think we should borrow some money from China to fund a nationwide party celebrating the resolution of the debt crisis. Why isn't your segment longer? Thanks, Jack.
Jim:
Jack, Yeah, I'll buy it. But can I put it on my credit card?