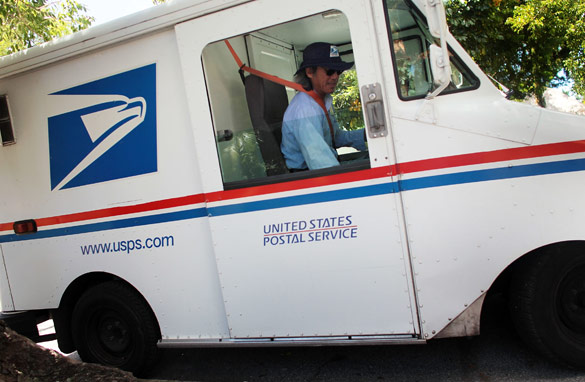 (PHOTO CREDIT: GETTY IMAGES)
FROM CNN's Jack Cafferty:
The post office is in big trouble, and today the United States Postal Service announced it's planning to close nearly 3,700 post offices in 50 states and in Washington. The closings will occur mostly in rural areas and involve outlets that don't get a lot of foot traffic. The closings would save $200 million.
The move shouldn't come as a surprise. The postal system has been bleeding cash for years. The volume of first-class mail has dropped 28% in the past four years as more Americans send e-mails and pay their bills online. Last year, the U.S. Postal Service had an $8.5 billion loss, that's compared with a loss of just $3.8 billion in 2009. Things aren't looking any brighter this year. Last quarter, the U.S. Postal Service lost $2.2 billion.
But many people in the communities set to lose their post offices are up in arms. The postal service says "village post office" kiosks will be created in grocery and convenience stores in the next year to fill the voids in these towns. You'd be able to buy stamps and mail packages there. And that may be the future of post offices. The postal service plans to review half of its existing 32,000 post offices over the next 10 years for possible closure just to stay afloat.
Legislation proposed in Congress could provide more help to the ailing agency. It would relieve the agency of paying into a retirement fund for future retirees' health benefits, and it would reduce mail delivery to five days from six. That would save an additional $3 billion annually. But that still may not be enough.
Here's my question to you: How much do you rely on the U.S. postal service?
Tune in to the Situation Room at 5pm to see if Jack reads your answer on air.
And, we love to know where you're writing from, so please include your city and state with your comment.