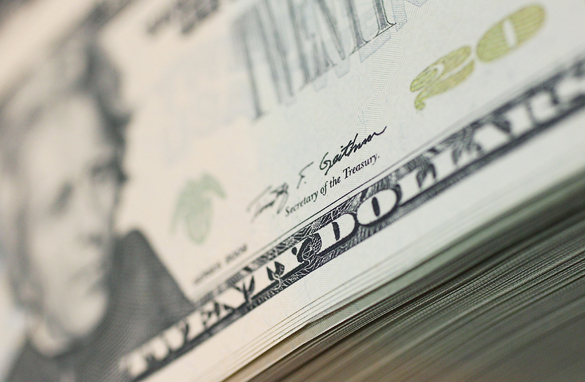 Treasury Secretary Timothy Geithner's signature, as seen on a new $20 bill. (PHOTO CREDIT: GETTY IMAGES)
FROM CNN's Jack Cafferty:
With all the ugliness surrounding the debt ceiling debate and no end to it in sight, it's hard to see how anyone can come out of this mess on top. But politics are politics. And while it's a high-stakes game, and no one knows the outcome, there will be a huge price to pay for someone.
President Obama's re-election hangs in the balance of course, and he's all too aware of it. He wants a deal desperately, but his plans have fallen flat and he's been unable to accomplish any great compromise between the two parties.
House Majority Leader Eric Cantor has blamed President Obama's fixation on the 2012 election for holding up a deal. Treasury Secretary Tim Geithner said in an interview yesterday that the president's objective was to take the threat of default off the table through the election. That's pretty telling.
But it's not just the president who is worried about his future. Incumbent seats in both houses of Congress are in jeopardy; and as a result, so are the Democratic control of Senate and the Republican control of the House. There's a lot at stake today; and a lot at stake down the road. And the average American citizen doesn't even have a seat at the table in this debate.
Washington Post columnist Ezra Klein says so far the Republicans are winning because the debt ceiling can't be raised without their support but, he points out, that according to polls, they don't have popular support behind their position. Members of the Tea Party aren't budging on their promises of deep spending cuts and no new taxes. And that's preventing Republican leaders from compromising on a deal.
Democrats in the meantime are playing defense, hoping to strike a deal that avoids an economic disaster and doesn't rock the political boat too much. But with the clock ticking and the world watching, that's not likely to happen.
Here's my question to you: Politically, who stands to win or lose most in debt ceiling Russian roulette?
Tune in to the Situation Room at 5pm to see if Jack reads your answer on air.
And, we love to know where you're writing from, so please include your city and state with your comment.