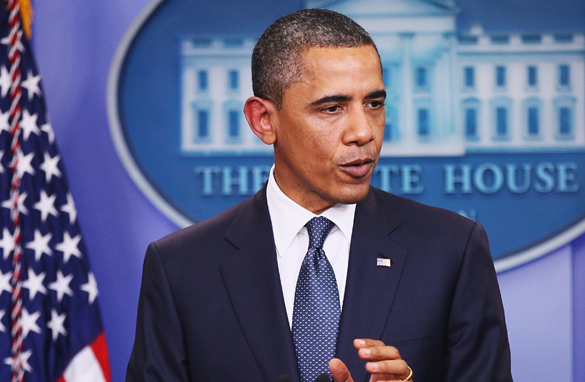 (PHOTO CREDIT: GETTY IMAGES)
FROM CNN's Jack Cafferty:
An appeals court in California has overturned a man's two convictions for threatening to assassinate President Obama. The grounds? Freedom of speech.
In 2008, two weeks before Barack Obama was elected the first black president in this nation's history, a California man posted violent, racist messages about Obama on an online message board: One posting said, "Shoot the ____" using a racial slur to describe Obama. Another post said Obama would end up with a "50 cal in the head soon."
The Secret Service tracked down this individual as you might imagine - a guy named Walter Bagdasarian - within weeks. He had a .50-caliber rifle and five other guns and ammunition in his possession when they found him. He was arrested, and after waiving his right to a jury trial, Bagdasarian was convicted by a federal judge of two felonies for threatening to kill a presidential candidate.
But Wednesday, a court of appeals in - wait for it - San Francisco overturned that decision.
In a 2-to-1 ruling, the court said his actions were protected by the First Amendment and that while his words were "alarming and dangerous," they were not illegal. The court also said Bagdasarian expressed no intent to act on his words himself.
Prosecutors can now ask the appeals court for a rehearing or appeal the decision to the U.S. Supreme Court.
After Bagdasarian was initially convicted in 2009, he apologized for his actions and said he had posted the messages while drunk. Apparently in his mind that made it OK. He was sentenced to two months in a halfway house in addition to the 24 days he had already served in jail.
Here's my question to you: Should calling for the assassination of the president be protected as free speech?
Interested to know which ones made it on air?
A.J. in Lincoln, Nebraska:
Yes, it should. Free speech is free speech. There is no gray. However saying your going to kill someone is a threat and is illegal. Saying that you wish, or would like to see, someone else kill a certain individual is perfectly okay. Now if that certain individual happens to be the president and that president gets killed, you should be charged and punished.
Joe in Binghamton, New York:
Jack, calling for the assassination of the President should be treated as treason. There is no room for free speech when the agenda is to annihilate the symbol of our nation.
Kevin in New Mexico:
No, it should not be protected as freedom of speech. It should be considered a terrorist threat to take a life. If you're not happy with who the president is, wait till the next election and vote for someone else.
James in Columbus, Ohio:
No way can it be protected speech. No way, no way. Also, I believe that burning our flag should not be protected speech. Call me old fashioned, I don't care.
Will in Bozeman, Montana:
My brother, who suffers from paranoid schizophrenia, threatened President Reagan's life on two occasions. He served two years each time in a penitentiary. The authorities deemed his threat real enough to put our family under close scrutiny for years. It made it difficult for me to get a secret clearance while in the military, (affecting my job and promotions), my mail never came unopened, and after 911, I was on a threat list and forced to fly the day after my scheduled flights.
Kirk in Apple Valley, Minnesota:
If we want to pretend that the Constitution actually means anything, then sadly the answer is yes. However, I'm fairly sure that the fanatical Right will only say that it is free speech so long as it only pertains to President Obama.
Ray in Knoxville, Tennessee:
Yes, it should, Jack. There's nothing in the Constitution that says that free speech shouldn't apply to idiots, too.