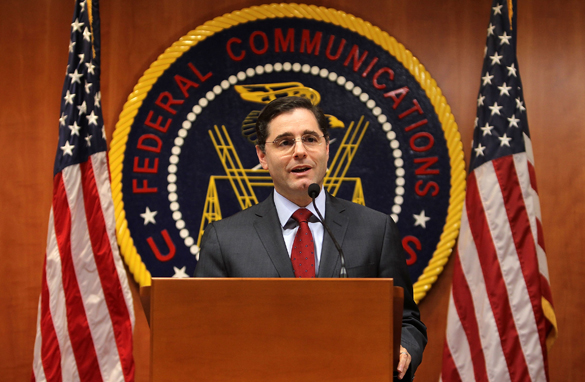 Federal Communications Commission Chairman Julius Genachowski speaks  at FCC headquarters in Washington, DC. (PHOTO CREDIT: GETTY IMAGES)
FROM CNN's Jack Cafferty:
In an economy with 9.2% unemployment, job security is hard to come by. That is unless you work for the federal government.
An analysis by USA Today found the job security rate for government employees at many federal agencies last year was more than 99%. And these workers are more likely to die than to lose their jobs to a layoff or firing. The federal government only fired about one half of a percent of its workforce last year. The private sector in contrast fires about 3% of workers annually for performance.
Just to give you a few examples: At the Small Business Administration, which employs about 4,000, six people were fired last year but there were no layoffs. Seventeen employees died. Not a single federal attorney was laid off last year - there are about 35,000 of them. Just 27 were fired, 33 died. At both the Federal Trade Commission and the Federal Communications Commission, not a single employee was fired or laid off last year.
The USA Today analysis also found that nearly 3 out of 5 firings among federal workers occur within the first two years on the job, most commonly to the lowest paid workers. Meanwhile, the nearly half-million federal employees earning $100,000 a year or more had a job security rate of more than 99.8%. Nice work if you can get it.
Here's my question to you: What does it mean that federal workers are more likely to die than lose their jobs?
Interested to know which ones made it on air?
David in Virginia:
It means we have lost accountability in our government. When private industry can boost profits despite the tepid economy by becoming more than 10 percent more efficient, it makes you wonder what would happen if we applied the same pressures to the government workforce. Maybe we could save a hundred billion a year - that's a trillion dollars over a decade. Why doesn't the government think like that?
Jack in Dunlap, Tennessee:
It is an unfortunate situation that it is almost impossible to get rid of a government worker even if they are worthless and need to be fired. That is one reason why we are so deeply in debt.
Iris in Los Angeles:
What is it with you? Why do you keep bashing public employees? Would you prefer that we just go the Republican route where every employee is low-paid, overworked and enslaved to rich corporate masters? I'm happy to hear that federal workers have such great job security; if only the rest of us did.
Bud in Reston, Virginia:
I'm not sure if that premise is exaggerated, Jack, but it is pretty difficult firing full time government employees. However, I've seen first hand that if a more senior level employee (GS 14-15) gets themselves in deep enough, they can and will be shown the door. Sometimes under the guise of early retirement.
Chris in Florida:
Same thing it means in the mob, Jack. A job for life.
Rick:
It means that the federal government needs to hire a management consulting firm to weed out the deadwood, the duplication of effort, and the useless and wasteful jobs that are not needed. If they actually did that, which they won't of course, the Federal Government would likely shrink by 60% of its current size.
Loren:
Government's first order of business is to perpetuate itself, and it can't do that if it doesn't have a reliable workforce. So, nobody gets laid off, nobody gets fired. I need to get me one them jobs.