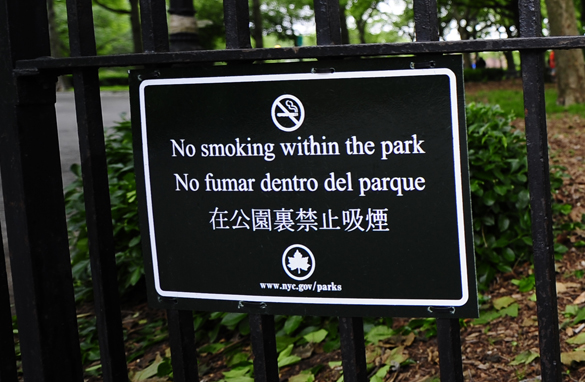 A sign at the entrance of Manhattan's Battery Park. Smoking is prohibited in New York City's parks, public beaches and pedestrian plazas like Times Square. (PHOTO CREDIT: EMMANUEL DUNAND/AFP/Getty Images)
FROM CNN's Jack Cafferty:
Fewer than one-quarter of American adults are smokers, meaning they've had at least one cigarette in the last week. That number has been dropping for years. And while they may be a shrinking minority, when smokers light up, people who don't smoke take notice.
Over the past 10 years or so, as study upon study has revealed the long-term danger of smoking and exposure to secondhand smoke, smokers are finding they are welcome in fewer and fewer places.
Now comes a new Gallup Poll that shows a majority of Americans, 59%, support a ban on smoking in all public places. That's the highest percentage in the 10 years since Gallup starting doing the poll.
Twenty-seven states have passed tough smoke-free laws. A new law in New York City prohibits smoking in just about any public place, including beaches and outdoor plazas. And increasingly tough laws are in the pipeline in cities and states across the country.
While the growing majority of Americans don't want to be around people who are smoking, they aren't pushing for an all-out ban on the behavior. Only 19% say smoking should be made illegal. That percentage has been relatively unchanged over the past five years.
But suffice it to say the battle between smokers and nonsmokers will likely continue. And for now, nonsmokers seem to have the upper hand.
Here's my question to you: Should smoking be banned in public?
Interested to know which ones made it on air?