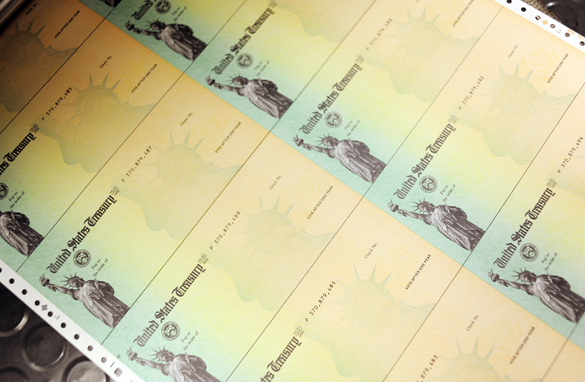 Blank U.S. Treasury checks are run through a printer at the U.S. Treasury printing facility in Philadelphia. President Obama recently stated he can't guarantee retirees will receive their Social Security checks in August if the House and Senate can not reach an agreement on reducing the deficit. (PHOTO CREDIT: GETTY IMAGES)
FROM CNN's Jack Cafferty:
On August 3, the U.S. government is scheduled to pay $23 billion in Social Security benefits. But if a deal isn't reached in Congress to raise the debt ceiling, there's a chance those checks won't go out. That's because only $12 billion in revenue is expected to come in that day, which would leave the Treasury a cool $11 billion short, according to Politico.com.
Without an agreement, the federal government's line of credit will run out, and so will its options to write those checks. And when you include other payments scheduled that day, the federal government will be $20 billion short. Wonderful.
That's just one scenario, of course. Talking heads from Washington to Wall Street have weighed in with predictions on what could happen if a deal isn't reached - everything from a financial apocalypse to a nonevent. The administration has used words like "calamitous," "catastrophic" and "Armageddon." But a handful of vocal Republicans say the Obama administration is exaggerating the situation. They claim not a whole lot would happen if an agreement isn't reached by August 2.
But by and large, most economists say if the United States defaults on some of its loans, interest rates would shoot up, the dollar would plummet, stock markets around the world would tumble and our very fragile economy could suffer a mighty blow. Suffice it to say there doesn't appear to be a lot of upside to Uncle Sam defaulting on his obligations.
Interested to know which ones made it on air?
Paul:
Higher interest rates, higher debt, higher unemployment, lower tax revenue, lower consumer demand for pretty much everything. It's a big chain of dominos where you're free to pick the one that scares you the most, but at the core of it for me would be the run on job losses again from the new recession that will be born.
B.J. in Quincy, Illinois:
Severe poverty breeds crime, disease, suffering and insurgency. We know this. Hey 'big business' if we don't get paid you don't get paid. Capish? I'm disabled. My Social Security check is the only thing I live on. If I don't get my check, I'll have nothing to live on. I imagine this applies to thousands of people.
Carol in Northampton, Massachusetts:
As a former international banker, I'm not scared at all. It's a global economy. We all need each other. Rating agencies have become meaningless. Life will go on. What scares me is how dug in the Tea Party is in trying to eliminate government. But, don't take away their Medicare.
Jim in Denver:
Jack, losing my house, potentially my job and seeing years of hard work building my life flushed down the toilet by a bunch selfish idealogues who are not representing the majority of citizens in this nation. This nation has lost the principle of "We the People," something our elected officials need to be reminded of come election time.
Dave in Nashville, Tennessee:
No fear Jack, think back when you refused to raise the curfew for your daughters, they huffed and puffed for a while, but turned out just fine.
Paul in Florida:
My fear? Streets filled with formerly wealthy privileged people, Zombies, without a clue how to survive, lost in a poverty-stricken world! Suddenly, unwelcome members, of a class of Americans whose existence they previously refused to acknowledge.