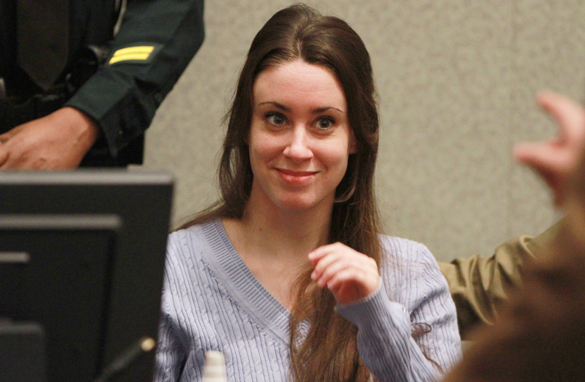 (PHOTO CREDIT: GETTY IMAGES)
FROM CNN's Jack Cafferty:
Casey Anthony is scheduled to be released from prison on Sunday. As a free woman, she will reportedly live in a secret location, likely under a new name. According to some reports, Anthony is being advised to dramatically change her appearance.
While her attorneys are aware how hated she is, Anthony may not fully understand that until she gets out. While she's been sitting in a jail cell, she has become a celebrity of sorts, getting letters of support and cash from all over the country. ABC News reports Anthony has nearly $500 in her jailhouse bank account. The money has come in from at least 17 donors since May, mostly from men. What a surprise.
In the grand American tradition, Casey Anthony stands to make millions from telling her story. Not that it would likely be the truth. She's a stranger to the truth.
A producer associated with "The Jerry Springer Show" has offered Anthony $1 million for her first televised interview. However, "The Jerry Springer Show" denies the offer was made to appear on that particular program.
You can bet that at some point there will be an interview, a book or a movie. She stands to become a rich woman while the questions about what happened to her beautiful little daughter remain unanswered. For 31 days, a child is missing, and Casey Anthony parties while lying to everyone about the child's whereabouts.
The trunk of her car was later found to smell of death, her daughter's remains were eventually found tossed in a swamp like so much trash, and the jury found her not guilty of her daughter's death.
She was convicted of repeatedly lying to police. But why would you lie to police if you had nothing to hide?
Here's my question to you: Did the Casey Anthony trial alter your view of the criminal justice system?
Interested to know which ones made it on air?
Kay:
Yes, for the better. The jury did what they were supposed to do: put emotion and conjecture aside and weighed the actual direct evidence. There was "reasonable doubt" all over the case because none of the evidence was ever directly connected to Ms. Anthony. We cannot say a person committed murder just because we don't like him or her. Proof is required, and there was none.
Richard in Malvern, Pennsylvania:
The verdict only bolsters my cynical view of our justice system. It is a system run by lawyers a.k.a. liars. That being the case, juries do the best they can based on the evidence, or lack of evidence, they are presented. It supports the old adage that, "If you are guilty be tried by a jury; if you are innocent be tried by a judge." As a post script, I think she is a stone-cold killer.
Joan in Morrisville, Pennsylvania:
Yes. What possible reason can a mother give for not reporting her child missing for thirty one days other than having something to hide?
David in Alexandria, Virginia:
No. It worked. If you bring charges against someone and can't convince a jury of their peers that they're guilty, they walk. It is a vital, critical protection afforded all of us by the Constitution. Having said that, I wish the prosecutors had gone after a lesser charge which might have stuck. Something isn't right in the Anthony family and we may never find out what that is, or how else it may manifest itself on someone else in the future.
Carla in Alabama:
No. Those 12 jurors came from very different backgrounds, and each found that there was not enough evidence to convict. Even though they knew they would face incredible criticism after they delivered their verdict, they did what they felt was right, not what was popular. We may not always get it right, but I'd rather see one guilty party go free for lack of evidence than see an innocent woman sent to her death on popular opinion.
Paul in Texas:
The prosecution did not provide proof beyond reasonable doubt. So I guess the system worked. Those guilty will eventually pay. Right, O.J.?