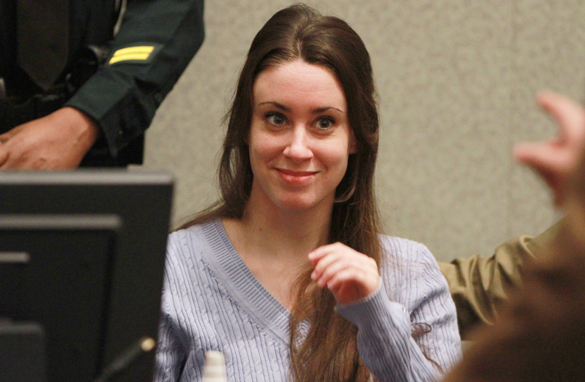 (PHOTO CREDIT: GETTY IMAGES)
FROM CNN's Jack Cafferty:
Casey Anthony is scheduled to be released from prison on Sunday. As a free woman, she will reportedly live in a secret location, likely under a new name. According to some reports, Anthony is being advised to dramatically change her appearance.
While her attorneys are aware how hated she is, Anthony may not fully understand that until she gets out. While she's been sitting in a jail cell, she has become a celebrity of sorts, getting letters of support and cash from all over the country. ABC News reports Anthony has nearly $500 in her jailhouse bank account. The money has come in from at least 17 donors since May, mostly from men. What a surprise.
In the grand American tradition, Casey Anthony stands to make millions from telling her story. Not that it would likely be the truth. She's a stranger to the truth.
A producer associated with "The Jerry Springer Show" has offered Anthony $1 million for her first televised interview. However, "The Jerry Springer Show" denies the offer was made to appear on that particular program.
You can bet that at some point there will be an interview, a book or a movie. She stands to become a rich woman while the questions about what happened to her beautiful little daughter remain unanswered. For 31 days, a child is missing, and Casey Anthony parties while lying to everyone about the child's whereabouts.
The trunk of her car was later found to smell of death, her daughter's remains were eventually found tossed in a swamp like so much trash, and the jury found her not guilty of her daughter's death.
She was convicted of repeatedly lying to police. But why would you lie to police if you had nothing to hide?
Here's my question to you: Did the Casey Anthony trial alter your view of the criminal justice system?
Interested to know which ones made it on air?