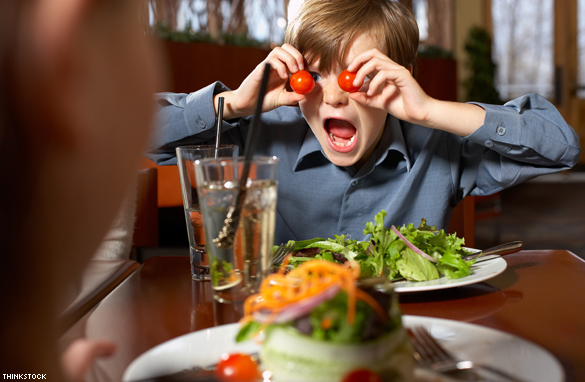 (PHOTO CREDIT: THINKSTOCK)
FROM CNN's Jack Cafferty:
A restaurant in Monroeville, Pennsylvania, just outside Pittsburgh, is banning children younger than 6 from its dining room.
The owner of McDain's says he decided to change his restaurant's policy after older customers complained about noise and unruly behavior by children dining with parents who do little to control their kids. The policy goes into effect Saturday. If the place was closer, I would make a reservation today.
McDain's is a small restaurant - it seats about 40 people, and it sits on a quiet golf course. Not exactly Chuck E. Cheese. But nonetheless the decision to ban the little noisemakers has caused an uproar in town.
This isn't the first time a restaurant has gotten fed up with tiny diners who can't sit quietly through a meal.
Last year, a restaurant called The Olde Salty in Carolina Beach, North Carolina, ruffled some feathers after a sign saying "Screaming Children Will Not Be Tolerated!" was posted in its window. And it was magic. While some locals were up in arms about it, that restaurant owner has reported a boom in business. She says diners who are looking for a peaceful meal now seek out her restaurant.
Of course badly behaved kids are not just a problem in restaurants.
Malaysia Airlines recently announced that it's banning infants from first class because of complaints received from passengers about crying babies on long flights. Other airlines catering mainly to business travelers have also been pressured to consider child-free sections of their flights and even child-free planes. We'll see what happens. Airlines need paying customers to fill seats, and kids, poorly behaved or otherwise, are part of that equation.
Here's my question to you: A restaurant in Pennsylvania has banned children under the age of six. Is that fair?
Interested to know which ones made it on air?
Julianne:
Absolutely! Asking parents to keep their children under control isn't being unreasonable; it's called being considerate of others. There is nothing wrong with parents teaching their children "good manners." If children don't learn them to respect others when they are young, then when will they?
Sandra:
Yes. In fact, I would ask those parents with older kids behaving like obnoxious spoiled brats to leave. Unfortunately, many that are yelling and screaming in the restaurants are older and should already have some manners! Somewhere along the line, someone decided that ill-mannered kids should be tolerated by all. If people wish to raise their children without respect for others, then they should not subject them to the public.
Ed:
Yes, let him do that, of course everyone who disagrees with his position has the right to not use the establishment, and to stand outside and protest his actions. I hope he is out of business in around 3-6 months.
Jennifer in Queen Creek, Arizona:
The problem is really the parents, not the children. My husband and I are very aware of our children's behavior. When our boys even act like they're going to melt down one of us loads them up and takes them to the car while the other stays and pays the check. We've received compliments from our servers on many occasions for being on top of the situation.
Diana:
This is discrimination against people with small children. What's next? Adult-only subway cars? Adult-only buses? Movie theaters?
Jim:
Given our druthers, my wife and I would only go to establishments that did not tolerate noisy/disruptive behavior from underage children. We shake our heads in dismay at those who are supposed to be acting like parents who allow their children to run amok. I wish this place was closer to DC so we could go there.
Jayne:
It's probably a moot question. What family with little kids can afford to eat out?