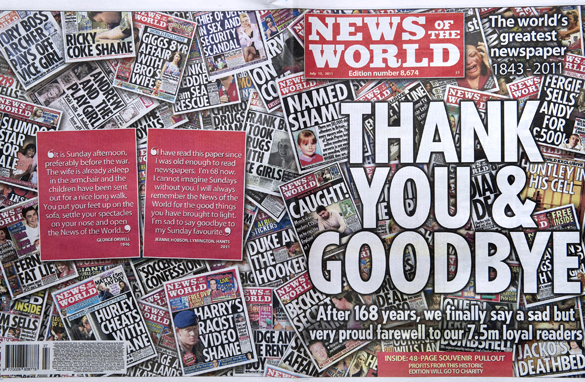 A copy of the front and back page wrap of the last edition of the British tabloid newspaper, the News of the World. (PHOTO CREDIT: CARL COURT/AFP/Getty Images)
FROM CNN's Jack Cafferty:
As fallout intensifies over the hacking scandal that brought down the British tabloid News of the World, the CEO of parent company News Corp., Rupert Murdoch, his son James, and former News of the World editor Rebekah Brooks have been asked to testify before Parliament next week.
And as this scandal grows, chances are Murdoch's troubles won't be contained to that side of the Atlantic. News Corp. could face investigations in the United States for possibly violating bribery laws. The U.S. watchdog group Citizens for Responsibility and Ethics in Washington is calling on Congress to look into whether News of the World journalists engaged in illegal newsgathering practices in the United States.
Earlier this week, the UK paper The Daily Mirror reported claims by a former New York police officer that the News of the World offered him money to give the paper access to voice mails and phone records of 9/11 victims and their families. Just sick.
But where does this end?
The Rupert Murdoch media empire, under the News Corp. umbrella, goes far beyond tabloids in the UK. Here in this country, Murdoch owns Fox News, the Wall Street Journal and the New York Post. You have to wonder what other illegal or unethical practices journalists working for other Murdoch outlets might be engaging in.
On Sunday's "Fox News Watch" program over on the F-word network - a show devoted each week to media criticism - the panel did not discuss the British scandal on air, instead focusing on topics like the Casey Anthony trial and the ongoing sexual assault case against former IMF head Dominique Strauss-Kahn.
However, on the Fox News website, in its regular "Behind the Breaks" segment, which is essentially video shot during commercial breaks, the panel chats about "the subject we're not talking about today." And at one point hosts jokingly dare another to bring the topic up.
Not surprisingly, nobody did.
Interested to know which ones made it on air?
Ken in Seattle:
It is hard to believe that the kinds of grievous criminal activities Murdoch's minions allegedly engaged in over so long a period of time could possibly be limited to Britain. He has the reputation of being a hands-on manager so one has to believe he knew what was going on. If he is amoral enough to conduct business in such a despicable manner there he must have done the same in the U.S.
David in Tampa, Florida:
Yes, Jack. Not what they print so much as how they obtain information.
R.S. in Detroit:
Every inch of Rupert Murdoch's criminal empire needs investigating. This is a powerful organization with its tentacles in everything, further corroding our political system.
Janice in Fayetteville, Arkansas:
Yes, they should start with Fox News. I do not believe it was a coincidence that their web site was hacked a few days ago with a report of President Obama's death.
Chika in South Africa:
Jack, between you and millions of us, we will want nothing more than a thorough investigation of Murdoch's so called "media empire." Question should have been: Do you think the American Government has the courage to investigate Rupert Murdoch and his companies? That guy, Murdoch, acts as if he is "untouchable."
Anne:
The Murdoch empire is corrupt. It always has been. He and his cronies don't even bother trying to hide it anymore – case in point: Fox "News." If the public doesn't demand some clarifications – through a government enquiry- then we are complicit in allowing one man's delusions of power to erode our society. News Corp has done so much damage already, we owe it to ourselves society to prevent them from doing more harm.
Dennis in Florida:
It sounds like a very good idea. I am sure that some of the middle manager types that received raises and promotions for promoting those activities in the U.K. shared the methodology with their U.S. counterparts. It's called corporate culture, and as usual it stinks.