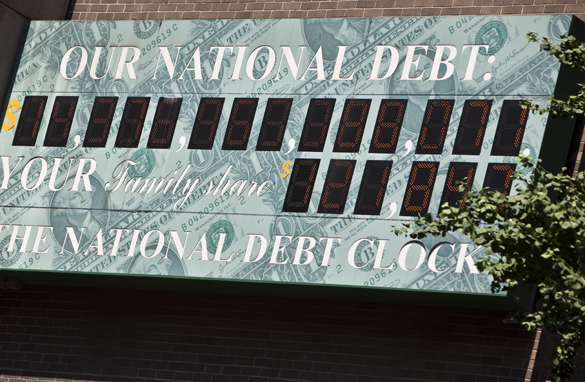 The U.S. National Debt Clock billboard is displayed on July 11, 2011 in the New York City. The national debt exceeds over $14.3 trillion.(PHOTO CREDIT: GETTY IMAGES)
FROM CNN's Jack Cafferty:
President Obama and Congressional leaders from both parties met behind closed doors at the White House this afternoon to discuss a deal on the debt ceiling - the second time in two days. All parties are still pretty far apart.
Both Republicans and Democrats have laid down ultimatums– Republicans have said everything's on the table except tax increases. Democrats have said they will not agree to a deal based solely on spending cuts. The President has proposed his own deal– a 10-year, $4 trillion plan that tilted 4-to-1 in favor of spending cuts. Boehner said it was dead on arrival.
And the clock is ticking...If they don't reach an agreement by August 2nd, the U.S. could default on some of its loans...and that could send stock markets tumbling, shoot interest rates sky high and cause the dollar to plummet. Both sides in the debate know this. Right now it seems to be a game of chicken - who will blink first. But this time the stakes couldn't be much higher. And it will be interesting to watch the head-on collision between politics and the reality of default. They're juggling hand grenades here.
The president has ruled out signing a short-term extension of the federal debt ceiling. And with just a few weeks left the rhetoric more resembles school yard trash talk than statesmanship. If you're not worried about the outcome of this, you probably should be.
Here's my question to you: How do you see the debt ceiling issue being resolved?
Interested to know which ones made it on air?
Greg in Arkansas:
The question of raising the debt ceiling has been resolved for weeks. It will be raised. The only purpose of these 11th hour meetings is to come up with the best way to "spin" the announcement of an agreement so both sides can claim victory and hedge their position with the voters when the reality of spending cuts and tax hikes take effect.
Ed in Texas:
Reductions in spending and tax increases are both needed to reduce the deficit and the debt. That seems rational, which also means it won't happen.
Pat in Michigan:
If Congress had any sense (and they don't) they would cut all programs by 10% for the foreseeable future. Reduce tax deductions on all brackets by 10% of what they are now. Let our allies who we pay to be our allies know the faucet is shut off till we get our house in order. Have no new programs till the budget is balanced and we have a surplus. When we get a surplus, then refund social security to full benefits. We share the burden together or we go down in flames together.
Joe in Houston:
It won't be resolved... they'll just increase it and then they'll add more debt. It won't be resolved until the dollar is valueless.
James:
I see the debt ceiling, deficit, and political folly in general being solved by the American people deciding enough is enough. You'll know that when you see American people doing what the folks in the Middle East, Greece, and other countries have already shown the courage to do. The Democrats won't cut spending and the Republicans are living in some cutesy fantasy land where the rich have forgotten that if the middle class goes down, so does the wealth of this nation.
Russ in Pennsylvania:
History shows that Congress will kick the can down the road. At some point that poor can is going to find that said road ends where the precipice begins. We should probably wish that poor can well while we can, as continued spending by government will cost us our own cans as well.