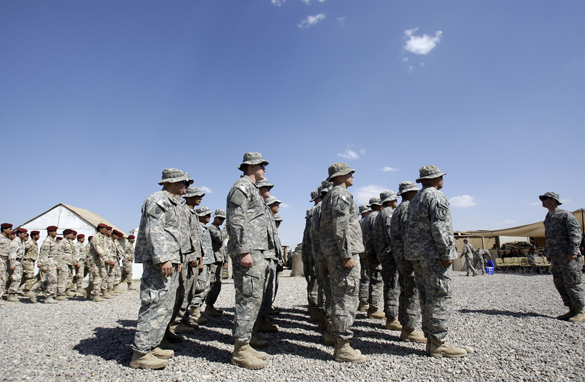 (PHOTO CREDIT: GETTY IMAGES)
FROM CNN's Jack Cafferty:
In 2008, President Obama promised over and over again to get all U.S. troops out of Iraq by the end of 2011. After winning the presidency, he vowed to keep that promise.
Now as that deadline for military withdrawal from Iraq approaches, he's apparently prepared to break that promise. Gee, what a surprise.
The President announced this week that he's offering to leave 10,000 U.S. troops in Iraq indefinitely, beyond the scheduled December withdrawal date. The White House says it's concerned that the planned pullout of nearly all U.S. troops at the end of the year could spark violence and trigger militant attacks there. Oh, and don't forget the oil.
Any extension of U.S. military presence depends on a formal request from Iraqi government, and so far no request has been made. But the Pentagon wants to give Prime Minister Nuri al-Maliki and his government time to decide so if they need the help, there is time to plan. The Iraqi government is reportedly divided on whether the U.S. should leave additional troops behind and al-Maliki is facing pressure from hard line members of his own party to let the troops leave on schedule.
There are about 46,000 U.S. troops in Iraq right now. Only about 200 were supposed to remain in the country in "advisory" roles beyond December to train security forces there. The White House said yesterday that's still the Pentagon's plan and that time for the Iraqi government to ask for the troops to stay is running out. What'll you bet they ask.
Meanwhile there are discussions about cutting Social Security and Medicare to deal with a ballooning national debt and deficit caused at least in part by the war in Iraq which so far has cost an estimated $1 trillion. Makes a lot of sense.
Here's my question to you: Should the U.S. leave troops in Iraq past the deadline for leaving the country?
Interested to know which ones made it on air?
Tom:
Jack, aren't you tired of the U.S. providing the world's security? The U.S. should have departed Iraq sometime ago. The U.S. should cease protecting the world unilaterally. Time for all other nations to participate with manpower and funds. The U.S. and Britain are the principal nations opposing tyrants. Why does the United Nations continually ignore their role to provide for a secure world?
Marvin in Polo, Missouri:
Definitely not. The Iraqis are quite willing and capable of killing each other without our troops, money and weaponry. Wish them good luck, and bid them farewell.
Patricia:
It may be necessary to leave some troops, but the majority will be brought home. This is no big deal. Circumstances control what he does and for me he has made good decisions on the war.
Mel in Houston, Texas:
No, unless the leader of Iraq gets on local TV and makes a public request for the U.S. to stay a longer period of time. Possibly a speech before their Parliament so that the citizens of Iraq can see that the U.S. is not an occupier.
Donald:
Please don't leave any troops in Iraq. Let that region's history unfold as it will. Ditto with Afghanistan. Get on with governing an America which puts its own citizens first, and concentrates solely on bettering the home country for everyone who lives there. In case you hadn't noticed, while you were wasting trillions on useless wars, America has fallen into a deep pit of overspending, foreclosures and unemployment.
Shawne:
I feel the U.S.A. needs to get most of the troops out of Iraq as soon as possible. What is the President thinking? This huge budget mess we are facing in this country is highly due to the wars in Iraq and Afghanistan. How can they even think of cutting Social Security, Medicare, etc. from our seniors and disabled citizens at the cost of these wars? I am 60 years old and feel my future is very uncertain.
Terry in Chandler, Arizona:
How many ways do I need to respond with "No" for my reply to be read on air Jack?