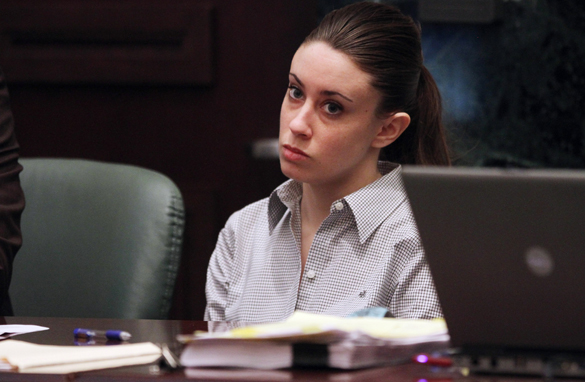 (PHOTO CREDIT: GETTY IMAGES)
FROM CNN's Jack Cafferty:
Like millions of Americans, I got sucked into watching the Casey Anthony murder trial. Over the July Fourth weekend, I spent several hours engrossed in watching the closing arguments, fascinated by the skill of the lawyers, particularly of the prosecutors, as they practiced their craft at the highest level in pursuit of justice for a 2-year-old girl who couldn't speak for herself.
It was the stuff of high drama. And for six weeks, the country has been riveted by the goings-on inside the courtroom in Orlando, Florida.
Our sister networks, HLN along with Tru TV, have mined ratings gold from trial coverage, garnering some of the highest numbers in their history.
But why?
This isn't the first time a mother has been put on trial for the death of her child. This isn't the first time television cameras have been allowed in a courtroom. Or the first time a defendant has been caught in countless lies and cover-ups or been depicted as a less than stand-up person during testimony. Nor was it the first time a defendant showed little emotion throughout it all. But for some reason, the country couldn't get enough. It was almost like O.J. all over again. Right down to the outcome.
The verdict left a lot of people scratching their heads. After my weekend on the couch watching the proceedings, I would have bet on a guilty verdict. And I would have been dead wrong.
Here's my question to you: Why did the Casey Anthony murder trial captivate the nation?
Interested to know which ones made it on air?