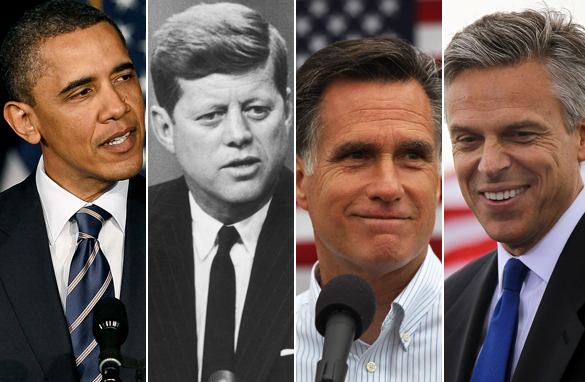 (L to R) Obama, Kennedy, Romney, Huntsman. (PHOTO CREDIT: GETTY IMAGES)
FROM CNN's Jack Cafferty:
A lot of people didn't think Barack Obama could win the White House in 2008, because he's black. But he did. In 1960, a lot of people didn't think John F. Kennedy could be elected president, because he was Roman Catholic. But he was.
According to the Pew Research Center, voters' attitudes toward candidates who are black, female, Catholic or Jewish have changed. Americans have warmed up to the idea of voting for someone who might be different from previous presidents or different from themselves.
But that doesn't necessarily hold true for all minority groups. Former Massachusetts Gov. Mitt Romney, the current Republican front-runner, and a new entrant to the race, former Utah Gov. and Ambassador to China Jon Huntsman, are Mormons, members of the Church of Jesus Christ of Latter-day Saints.
It's a church many Christians, particularly evangelicals, are skeptical of. Most people don't know much more about it beyond the church's former ties with polygamy. But whatever people know or don't know about Mormons, they aren't necessarily trustful of them. According to a Gallup poll, 22 percent of Americans say they would not vote for a Mormon for president, even if that candidate represented the voter's own party.
Huntsman is reportedly the less religious of the two. He told Fortune magazine last year, "I can't say I'm overly religious. I get satisfaction from many different types of religions and philosophies."
Romney, on the other hand, is more active in his church. He was once a lay bishop of Massachusetts' temple of the Church of Jesus Christ of Latter-day Saints. He spoke openly about his religion during his 2008 run for the presidency, and critics feel that speech ultimately killed his chances.
Here's my question to you: Can a Mormon be elected President of the United States?
Interested to know which ones made it on air?
Steve:
Jack, without any second thought it can be the deciding factor in any presidential election. You cannot get elected President of this country without pandering to the majority. That's Christians. Plain and simple. People here don't believe someone who's not a Christian could possibly make any moral decisions. At least before they find out what kind of lecherous behavior you've been participating in. I'm looking at you Newty.
Carol in Northampton, Massachusetts:
Not this year with two Mormons running against each other. Huntsman will neutralize Romney. But, Huntsman is possible in 2016. If he catches some charisma.
Kathleen:
Jack, I am old enough to remember a similar question being asked once before, "Can a Catholic be elected President of the United States?" Last time I checked, the Constitution of the United States does not list specific religious affiliation as any sort of criteria. This whole discussion is, frankly, disgusting.
Ray in Knoxville, Tennessee:
It's possible, Jack. If one can win the GOP nomination, then he would stand a chance because the right is so anxious to defeat President Obama that they would sell their souls to do so.
Fran:
I think the only ones who will have an issue with it are the Conservative Right Wingers who think their religion is the "Right" religion for the "Right" politician for whatever the "Right" reasons are. You know what I mean, Jack!
Sam in West Hartford, Connecticut:
Mormon, Catholic, Jewish, Muslim, whatever. I will vote for someone that can create some jobs.
John in Indiana:
Absolutely! A lot of people in the United States are ignorant to the church of the latter day saints and still think that they are all polygamists. This is simply not true, and I hope that those people educate themselves on the religion and do not let that get in the way when they cast their vote for president.
Paul in Ames, Iowa:
Jack check your spelling of "Moron" elected President. This has been done before.