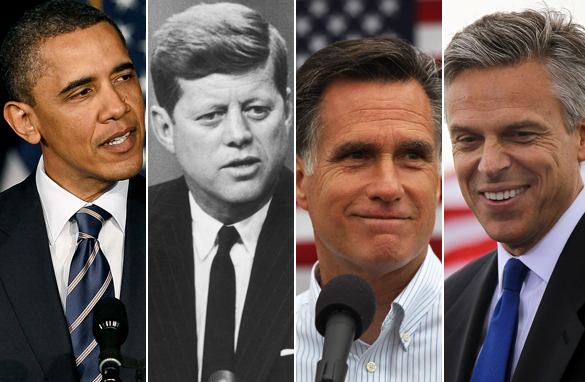 (L to R) Obama, Kennedy, Romney, Huntsman. (PHOTO CREDIT: GETTY IMAGES)
FROM CNN's Jack Cafferty:
A lot of people didn't think Barack Obama could win the White House in 2008, because he's black. But he did. In 1960, a lot of people didn't think John F. Kennedy could be elected president, because he was Roman Catholic. But he was.
According to the Pew Research Center, voters' attitudes toward candidates who are black, female, Catholic or Jewish have changed. Americans have warmed up to the idea of voting for someone who might be different from previous presidents or different from themselves.
But that doesn't necessarily hold true for all minority groups. Former Massachusetts Gov. Mitt Romney, the current Republican front-runner, and a new entrant to the race, former Utah Gov. and Ambassador to China Jon Huntsman, are Mormons, members of the Church of Jesus Christ of Latter-day Saints.
It's a church many Christians, particularly evangelicals, are skeptical of. Most people don't know much more about it beyond the church's former ties with polygamy. But whatever people know or don't know about Mormons, they aren't necessarily trustful of them. According to a Gallup poll, 22 percent of Americans say they would not vote for a Mormon for president, even if that candidate represented the voter's own party.
Huntsman is reportedly the less religious of the two. He told Fortune magazine last year, "I can't say I'm overly religious. I get satisfaction from many different types of religions and philosophies."
Romney, on the other hand, is more active in his church. He was once a lay bishop of Massachusetts' temple of the Church of Jesus Christ of Latter-day Saints. He spoke openly about his religion during his 2008 run for the presidency, and critics feel that speech ultimately killed his chances.
Here's my question to you: Can a Mormon be elected President of the United States?
Interested to know which ones made it on air?